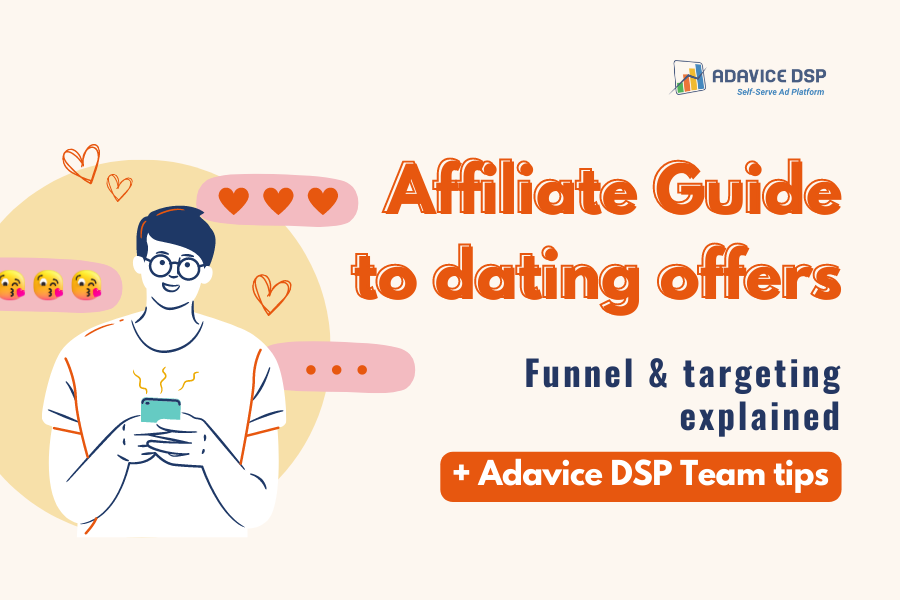 Love Is in the Air: Dating Campaign Launching Guide
Launching the dating campaign and don't know where to start? Check Adavice DSP's easy launching guide
Dating vertical
Love is in the air! Today's topic is the famously-known dating vertical. We will cover its advantages, specifics, and some essential settings affiliates need to know before launching.
The popularity of online dating keeps snowballing. There are over 8000 online dating platforms worldwide. Among their users, only Tinder in the U.S. has around 8 million users! [trulyexperiences.com]. Imagine the scale of the market in the whole globe.
The experts forecast even bigger success. According to the research, the dating market is expected to grow by 7.4% from 2023 to 2030. The market size for 2023 is estimated to reach 10.49 billion US dollars, greater than last year's results by 9%.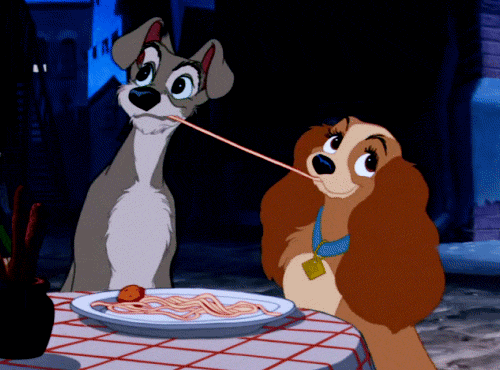 It would be a pity to lose an opportunity and not promote the dating vertical in 2023. That is why Adavice DSP has prepared this extensive guide for starting your profitable dating campaign.
Let's take a look at the opportunities, pros, and creative decisions you will definitely need in your launching journey.
Pros & cons
Traditionally, we start by diving into the advantages and disadvantages of the dating vertical. Why is it so popular and what pitfalls may await an unprepared affiliate?
Pros of dating vertical:
- High demand: The demand for dating vertical campaigns has never been as steady as now. With vertical's growing popularity and online dating platforms' development you'll rarely experience the lack of consumers. Adavice DSP tool kit will help you reach your target audience effectively to get the maximum result.
PRO TIP: Check more information on the target audience and other campaign components in the Adavice DSP Blog!
- Does not depend on seasonality: Dating vertical offers have potential throughout the whole year, with no holidays. It is great for affiliates who like to maintain stable campaigns and optimize them to get a passive annual income.
- Variety of offers: Dating vertical has 3 main types that you can choose from.
1) Mainstream dating - websites based on people's interests, lifestyles, etc.
2) Adult dating - websites promoting adult content.
3) Casual dating - promoting casual relationships.
Each type has its own specifics and regulations. We recommend consulting with the advertiser and Adavice Support manager before launching.
- Cost-effectiveness: The variety of ad formats suitable for the dating vertical allows affiliates to have a choice and regulate costs.
- Suitable for beginner affiliates: Easy campaign setting, variety of content, and cost-effective formats are perfect combinations for those who are just entering the niche.
Cons of dating vertical:
- Following the offer's conditions: Like in any other affiliate marketing deal, working with networks and advertisers may lead to less freedom. It is important to discuss and set the offer's conditions before running so it won't cause misunderstandings.
- High competition: Unfortunately, high demand creates high competition in the market. The industry's growth welcomes newcomers but only the strongest affiliates stay on top and make a profit with their innovative creatives and adaptive strategies.
Landings
After considering all of the dating vertical's advantages, let's take a look at the practical side. You have a launching plan and you have the target audience considered. Great start!
In this section, we'll explain the necessary details of landings, prelanders, and ads suitable for running a dating campaign.
Usually, dating landings are similar to each other: a picture of a happy couple, an easy registration field, and a visible Call-to-action button.
Here are some badass tips to freshen up your dating landing and leave a memorable impression on a user:
1) Add interactive content such as videos and slideshows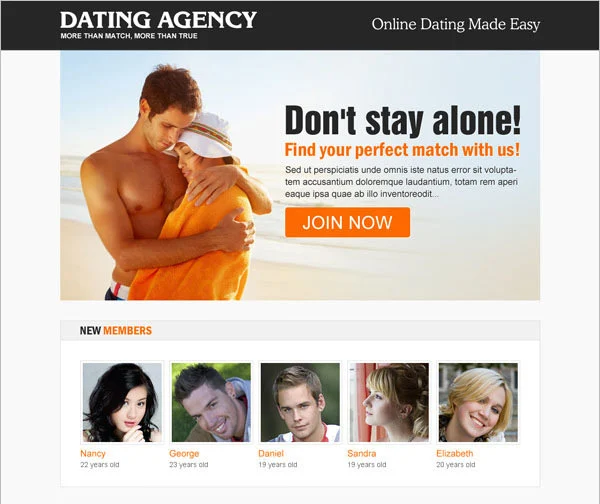 2) Change and test different CTA buttons (ex. "Find matches", "Search FREE", "JOIN NOW")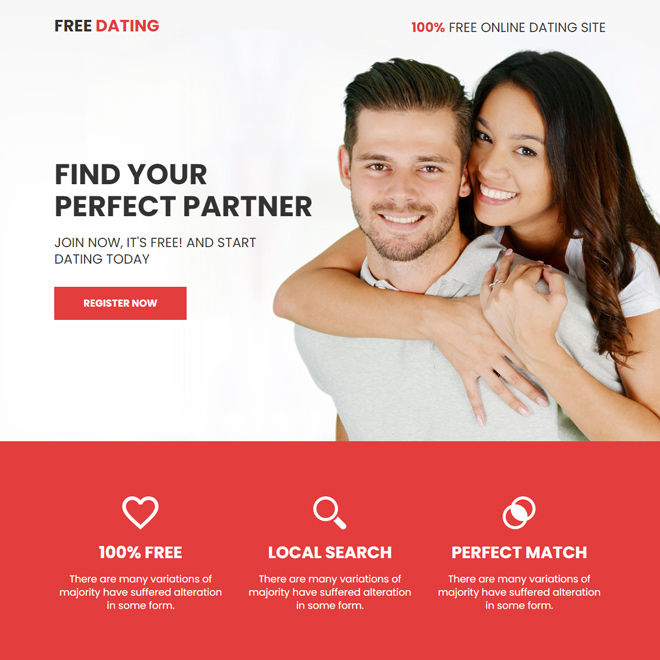 3) Make the registration field as easy as possible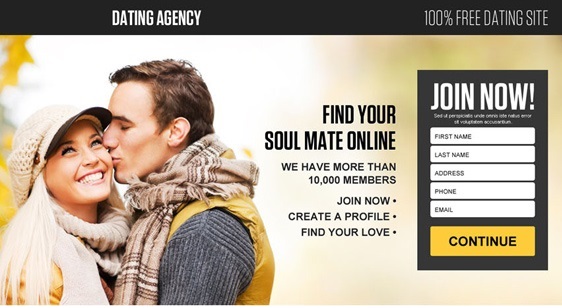 4) Customize the Landing to your niche (offer type, age, location, etc.)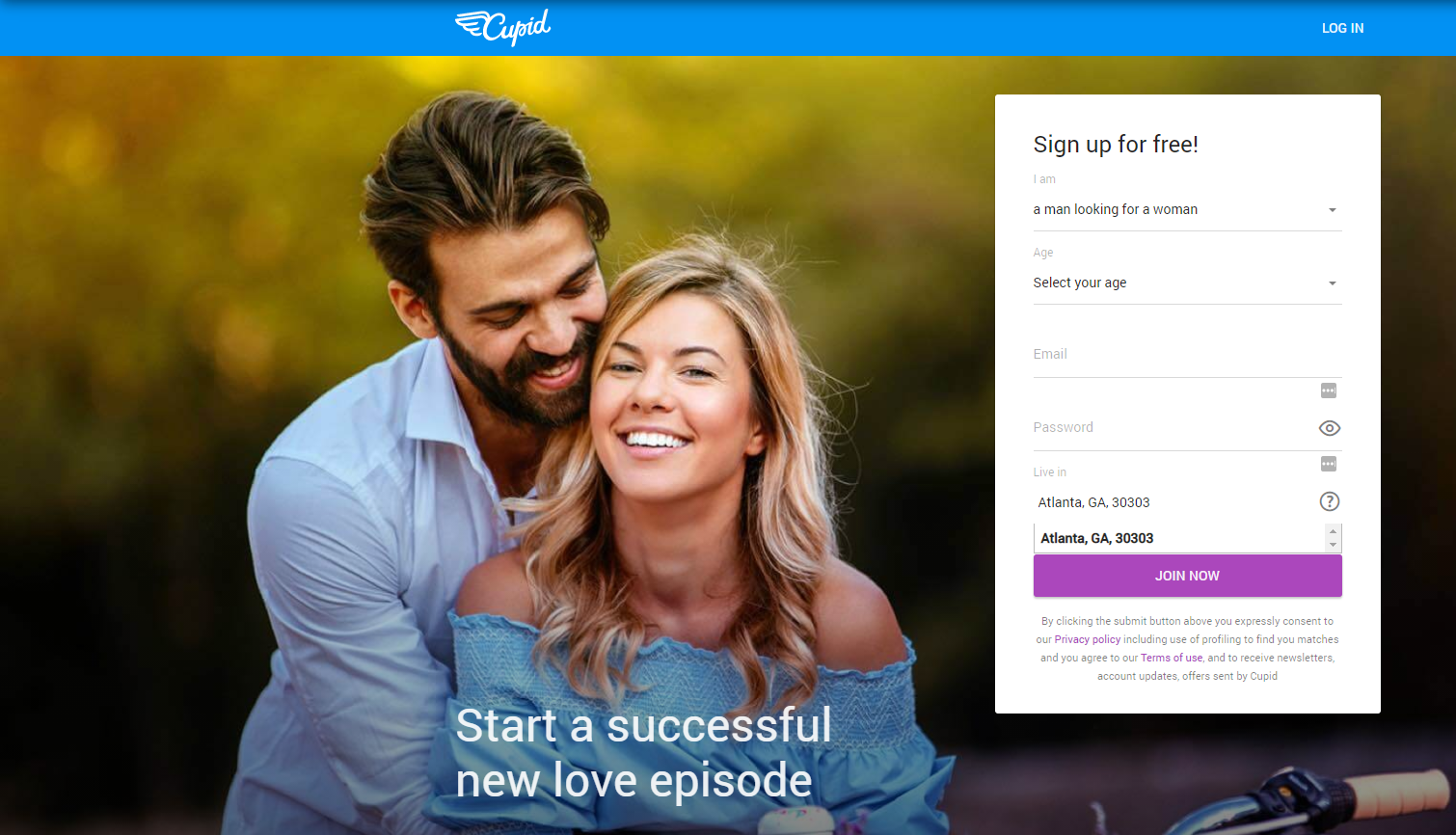 Prelanders
To complete your dating campaign funnel, let's touch upon prelanders. Prelanders are shown right before the landing page and help in convincing the users to convert.
The main goal of a prelander is to keep users interested and engaged. An ultimate prelander for a dating campaign should have:
1) The clear Call-to-action
2) Attractive & catchy design
3) Engaging content
The other components are for you to mix and test! Get creative, test various prelander options, and find the best-converting landing-prelander combo ;)
We have prepared some prelander examples for the dating campaign: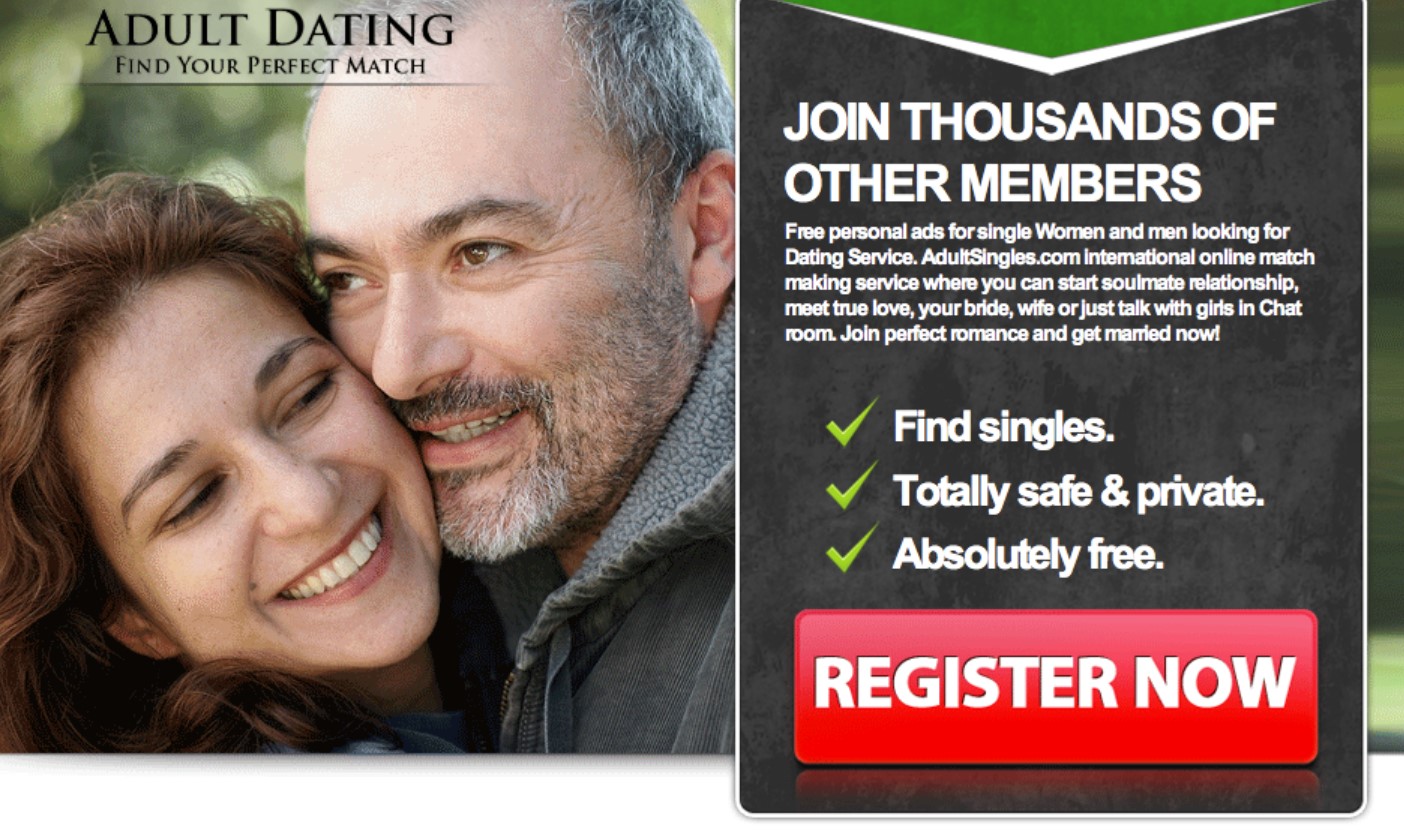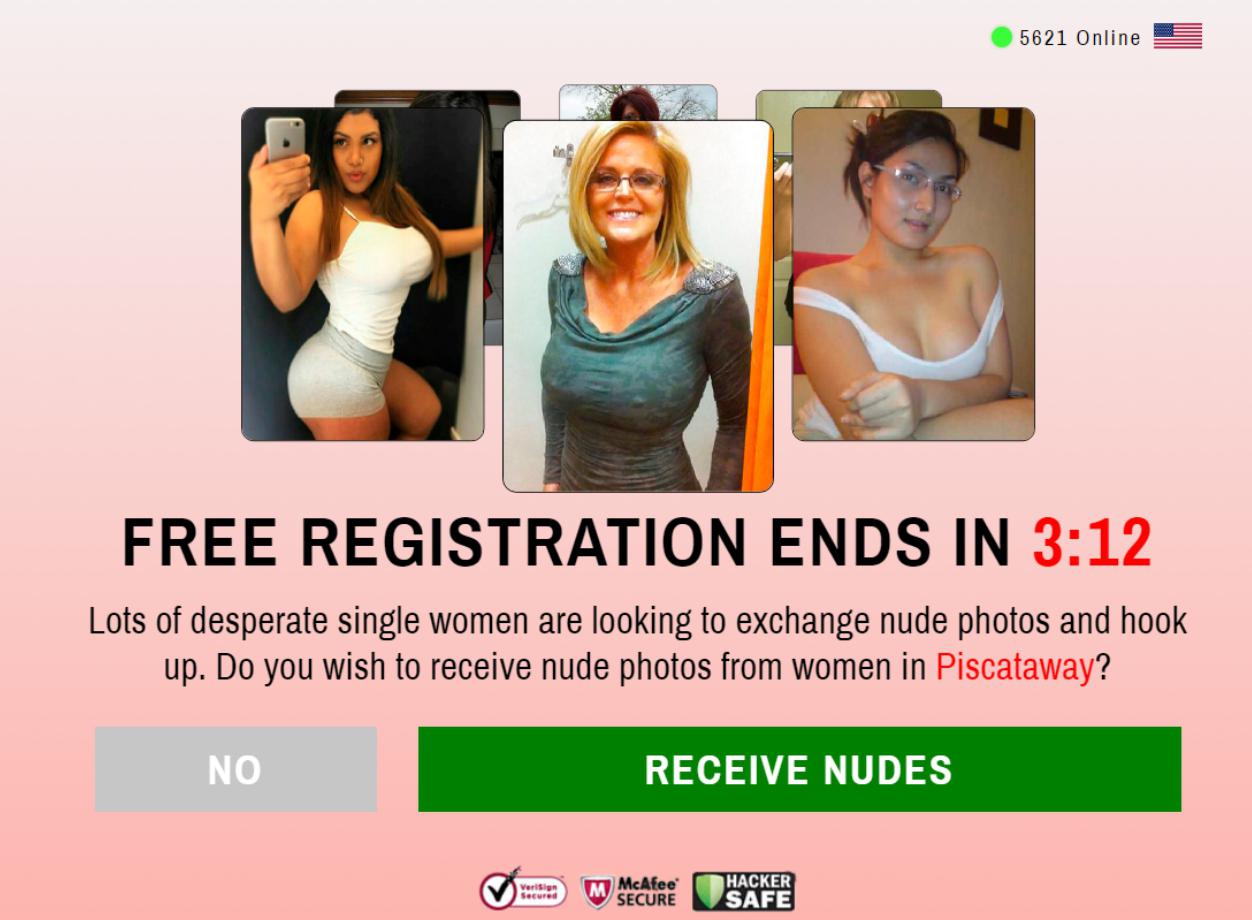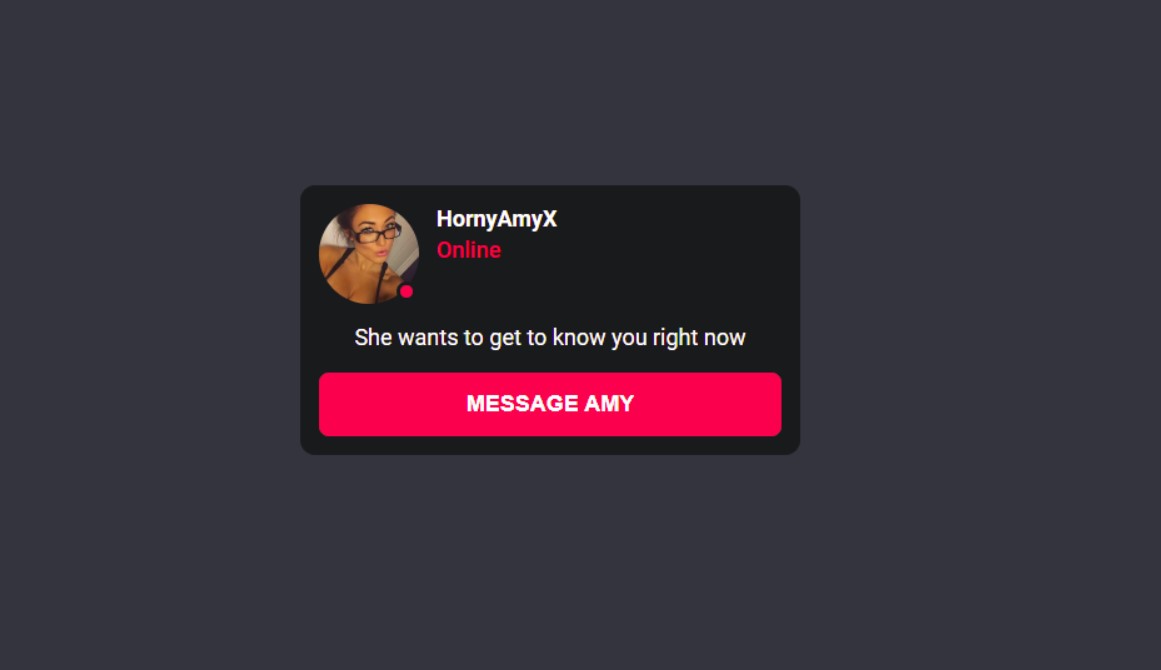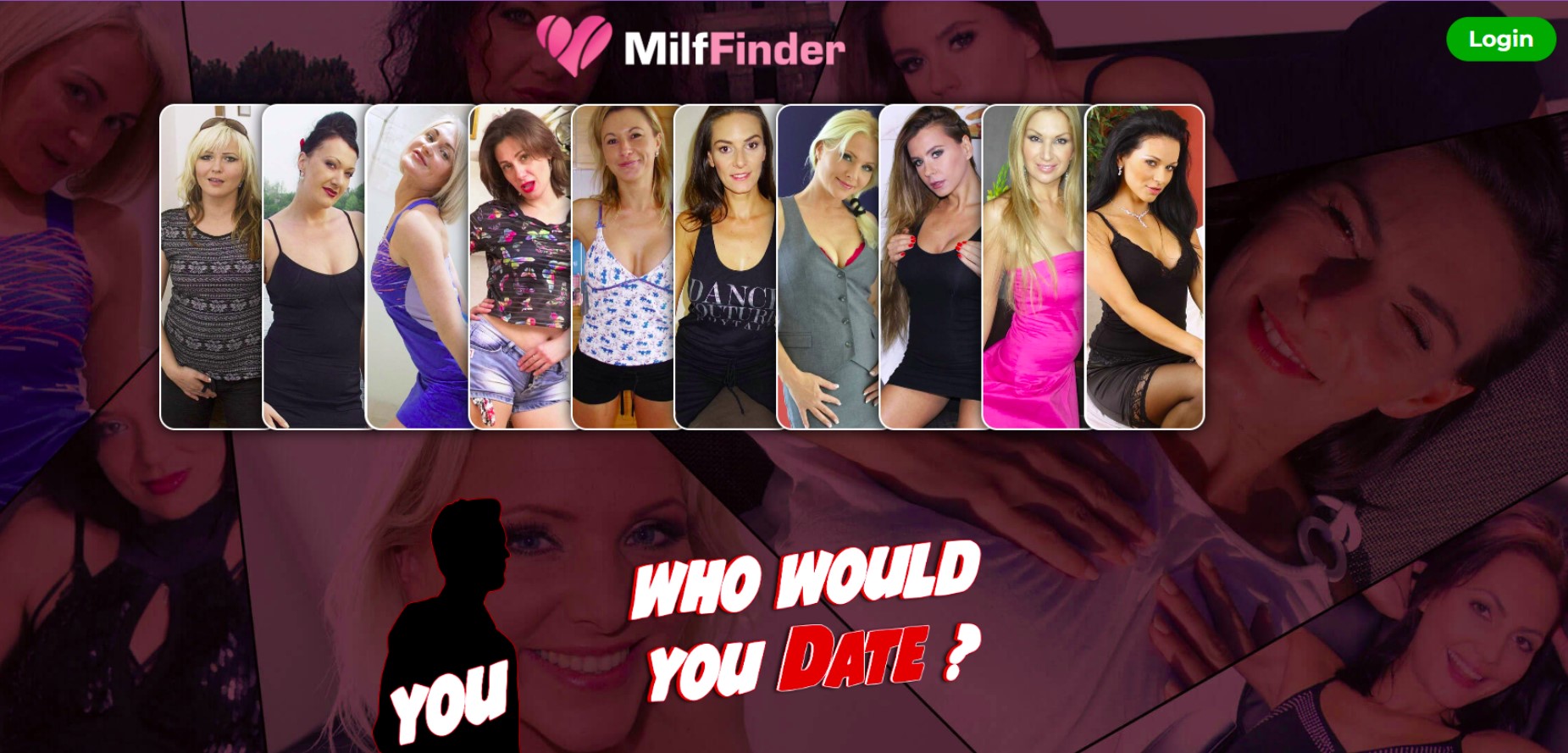 FYI: You may use prelanders much more vulgar for the funnel's sake but we will not share them with the public in the article. Please contact sales@adavice.com or your Adavice account manager to get the juicy prelander ideas! We also advise using Spy Tools to get inspiration.
Creatives
Your dating campaign is almost ready to be launched! The next step is adding the creatives.
The effective ad for the dating campaign has:
- engaging text (ex. "Your date is waiting for you!")
- pictures of women, men, or couples
- notification icons
- heart-warming emojis
PRO TIP: Adavice DSP offers 4 various ad types: push (classic, inpage, and calendar), pop (classic and domain), native, and display. Learn more about formats in the Blog :)
Today we'll take a look at push campaign creatives for the dating campaign.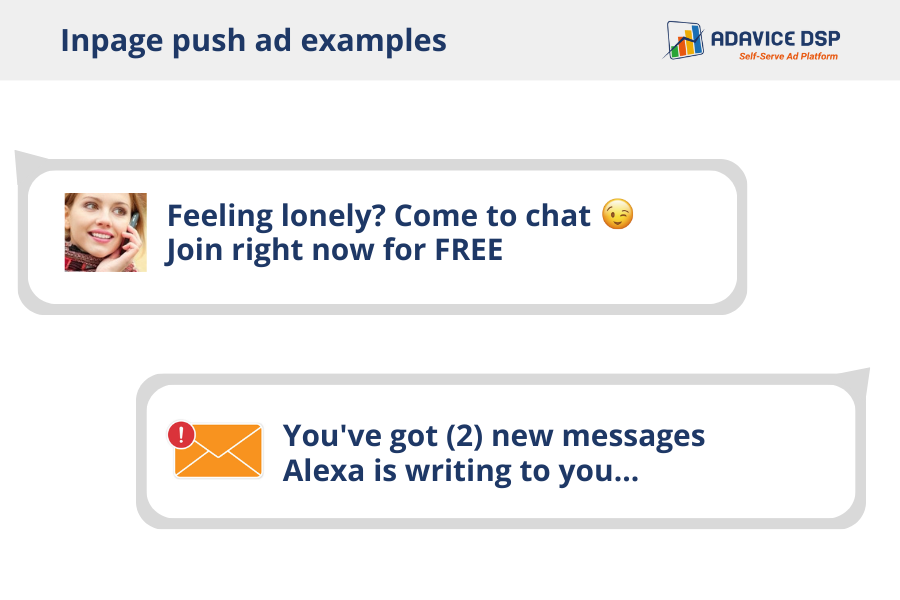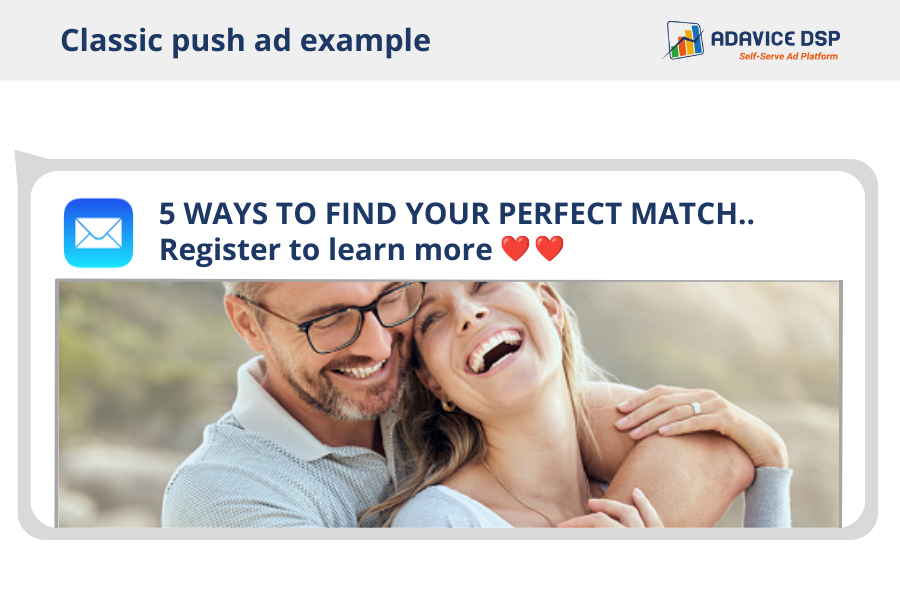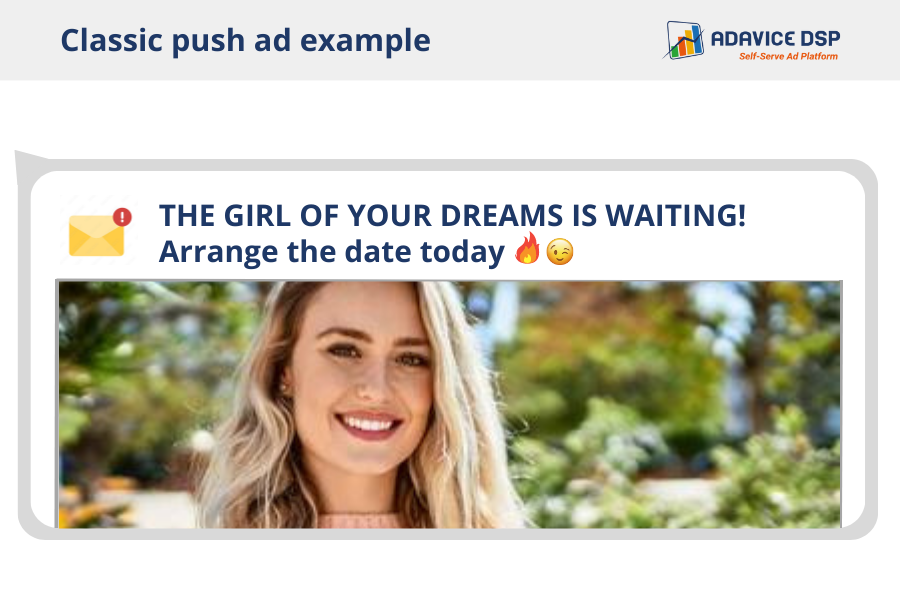 FYI: You may use creatives much more vulgar as well!
Targeting
Finally, let's talk about the campaign launching, specifically the settings and targeting to choose from.
Launch dating campaign on Adavice DSP with:
- classic push
- inpage push
- popunder
- natives
Adavice Team has collected the best-working GEOs for a dating campaign: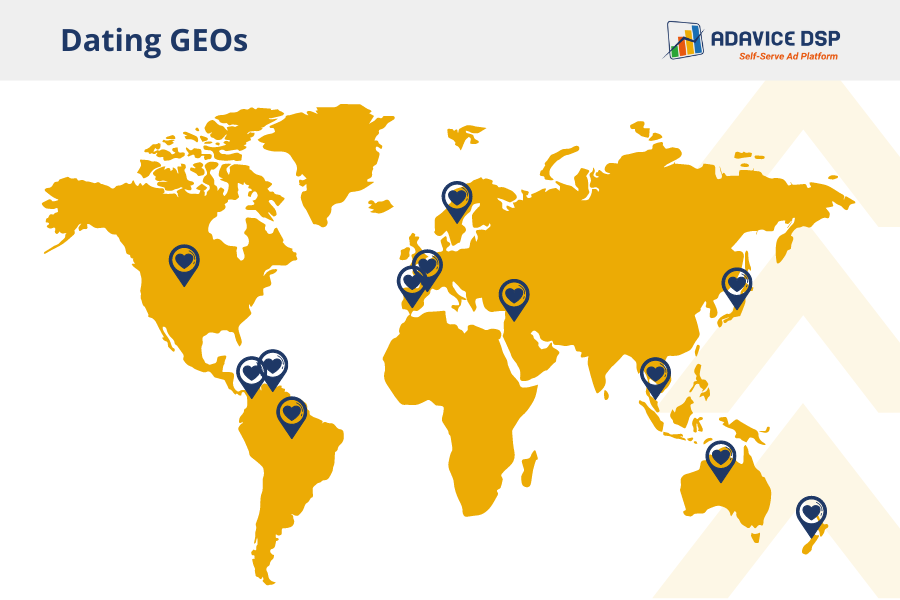 The GEOs we recommend to run the dating campaign in are:
- United States
- Colombia
- Venezuela
- Brazil
- Sweden
- Spain
- France
- Turkey
- Japan
- Malaysia
- Australia
- New Zeland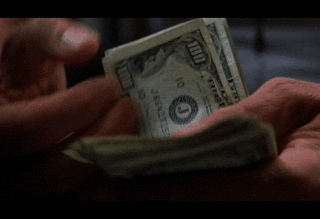 Share your insights and excellent results with us and fellow affiliates at sales@adavice.com! The Adavice Team is always ready to help you ;)