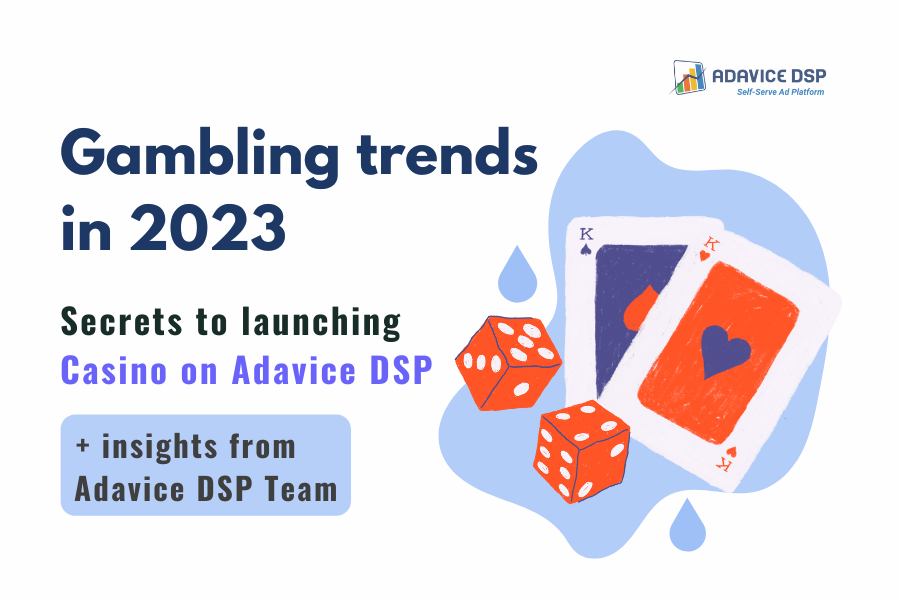 Gambling Trends 2023! Hottest Strategies to Run Right Now
Launch Gambling offers on Adavice DSP with the latest trends! Tips for the successful start
Gambling vertical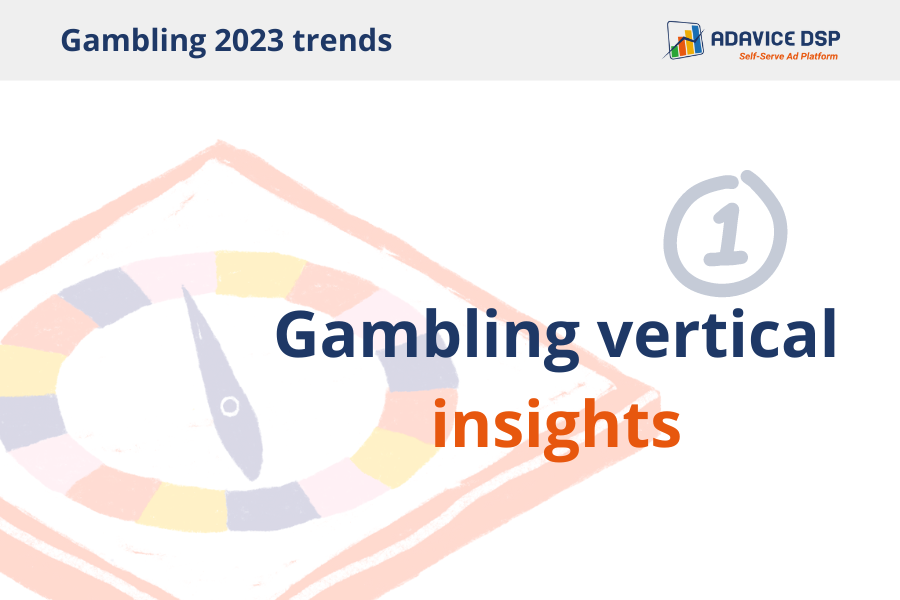 Gambling vertical remains one of the most profitable affiliate marketing niches in 2023. By the year 2028, the vertical's revenue is forecasted to reach $153 billion [thegamehaus.com]. With their unbeaten demand, online casinos, games, and lotteries are popular among users.
Check Adavice DSP's extensive Guide on Gambling vertical to freshen up your knowledge!
Increasing profits go hand in hand with trend awareness. You need to know the current trends and changes in the field to decrease your success rates and also lose a considerable amount of money on testing.
That is why we'll take a closer look at the Gambling 2023 trends and how to use them to your advantage!
Stay tuned till the end to find exclusive tips from Adavice DSP Team.
Following the trends
Staying up to date with trends is significantly necessary for any marketer. Of course, it can influence the emergence of new creative ideas, but that is not all!
Why is it important to keep up with the vertical's trends?
- Increase in the audience reach: by using trends and modifying them based on your offer you'll widen your potential user reach.
- Focus on the most effective strategies: trends are helpful because they almost fully guarantee the strategy's or creative's success. It wouldn't be a trend if it didn't work!
- Attracting new customers: usage of new approaches and creatives attracts new users to your offer. The more trends you see the more new potential content awaits for you.
- Increasing ROI and other vital indicators: keeping up with the trends directly influences the success rate thus the profitability of the campaign. By using the proven methods you decrease the testing costs thus increasing the campaign's efficiency and profit.
- The flexibility of content: being flexible is a great quality that helps rapidly react to changes and adapt the creative and offer content to the current trends.
Gambling trends 2023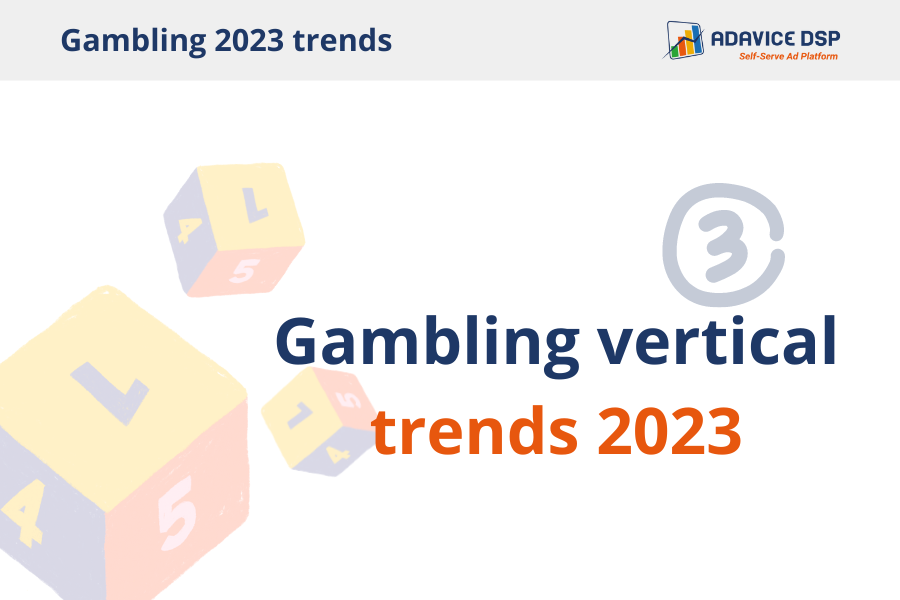 Let's take a look at some of the most vibrant gambling promotion trends in 2023.
1) Content marketing
The quality of content that you promote is significantly important for reaching your target audience and making them finish the funnel till the end. Promote the campaign with all possible creative means, and stand out with ads and text.
2) SEO
SEO is a classic go-to for product promotion. Paired with content marketing, SEO includes online optimization based on search keywords, customizing the landing for improving search engine ranks of your offer! As a result effective SEO brings higher viewability to the campaign in the search list.
3) Live Dealer Casinos
Many gambling users enjoy the opportunity of placing bets with live dealers. With the current advanced VR and mobile gaming technologies such mobile-first experiences are being developed further. Such human interactions can also be provided with the use of streaming technologies. The greatest advantage of live dealer casinos is the increase in user trust and improve the overall experience of the playing process. In addition, live casinos attract players by imitating the appearance of real gaming rooms, with lights, tables, and designs that users can experience without leaving the house.
4) Streaming
Take your gambling promotion to a new level with online streaming! Gambling streaming gains popularity on platforms such as Twitch, DLive, Trovo, and Mixer. The only pitfall that awaits the affiliates new to the streaming model is the licensing. Be sure to check all the requirements with the platforms before planning online streaming into your promotion strategy!
5) Crypto casinos
The ongoing trend in the cryptocurrencies, such as Bitcoin, Tether, and Ethereum, is getting adopted by gambling promoters. The rising interest in crypto stakes creates greater demand for crypto gambling platforms and their promotion. There are many things an affiliate needs to consider when promoting the crypto casino offer. The payment methods and promotion strategies are different from traditional gambling campaigns. However, keeping up with new technologies opens new doors for creativity and effective solutions!
6) Platform optimization
With the rising popularity of mobile gaming, affiliate marketers need to pay attention to the correct platform optimization. The landing must be suitable for mobile devices assuring a comfortable user experience.
7) No Wager bonuses
Playing on wager terms is a generous bonus that users can receive after registration. In simple words, the player starts with the first deposit and can go into debt that he does not have to pay back. For example, starting from a $10 bonus with a 20x wager, the player would need to spend at least $200 before being able to withdraw the winning amounts. No wager bonus system is only one of the limitless bonus variations an affiliate can promote the campaign with. It is better to analyze the target audience of your offer to know what bonus system would suit them. Read more on Target Audience and their types in Adavice DSP Blog.
8) Native ads
Native ads are one of the most popular ad formats. In 2023 more and more affiliates promote the use of these ads that seamlessly match the format, content, and style of the website where they appear. The greatest advantage of natives is that they are less disturbing for the user.
Don't hesitate and try mixing different strategies and test what works best for your offer. These hottest gambling trends will surely optimize your campaigns and raise your profit in 2023!
Apply the knowledge and start your campaign on Adavice DSP right now!
Adavice DSP tips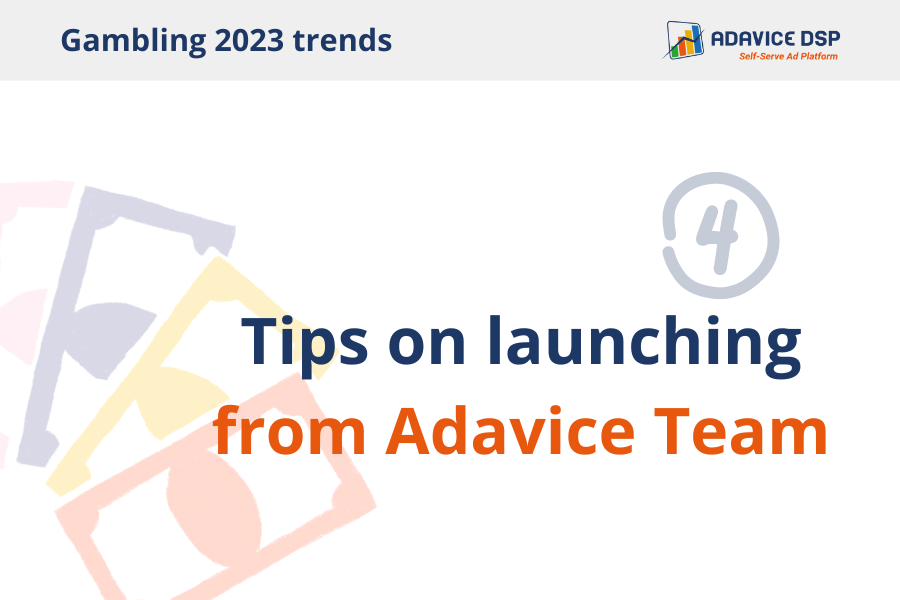 Last but not least we've asked our Adavice DSP professionals to share their juicy insights on Gambling trends in 2023. Below is a short Q&A with our Adavice DSP manager that currently helps our clients promote gambling campaigns.
Q. Are there any tips you can give to prepare for launching Gambling in 2023?
A. The most important is probably the competitors' research. Most affiliates tend to look down on it or skip it for saving time, but actually, this is what sets a good start for the overall run. There are plenty of Spy Tools available for checking the best-working campaigns.
Check more on Spy Tools in our Blog.
Q. What are your go-to targetings when launching successful Casino campaigns on Adavice DSP?
A. Always go for:
- Premium sources where the most converting audience is gathered;
- Ask your account manager for a whitelist to test. Although it can be small amounts of traffic, however, more converting in the long run;
- Easy and clear Call to Actions on the page.
Check out more information on launching Casino campaigns in the Blog!
Q. What are the common things that single out successful gambling campaigns?
A. Firstly, the content quality. All the successful affiliates pay attention to the landing, ads, formatting, and colors. In the end, we want the users to get attracted to the funnel and keep them in it. Using interactive prelanders and enticing pics and texts play a big role in the campaign's success!
Secondly, the bonuses! The best campaigns I've seen in 2023 had amazing bonus systems, from simple first-deposit to no-wager bonuses. You can easily get the users in with simple bonuses.
Thirdly, prelanders. Don't underestimate the power of a good interactive funnel!
Find more tips on casino prelanders in the article.
Q. Thank you so much for the insights! We hope it will help our affiliate colleagues launch gambling in 2023 more effectively!
A. Of course! Adavice DSP Team is always ready to help our friends and support them in campaign launching. Looking forward to seeing your innovative gambling solutions on Adavice DSP and don't hesitate to contact us at sales@adavice.com to chat about them ;)
Good luck in launching and remember to share your great results with the team!