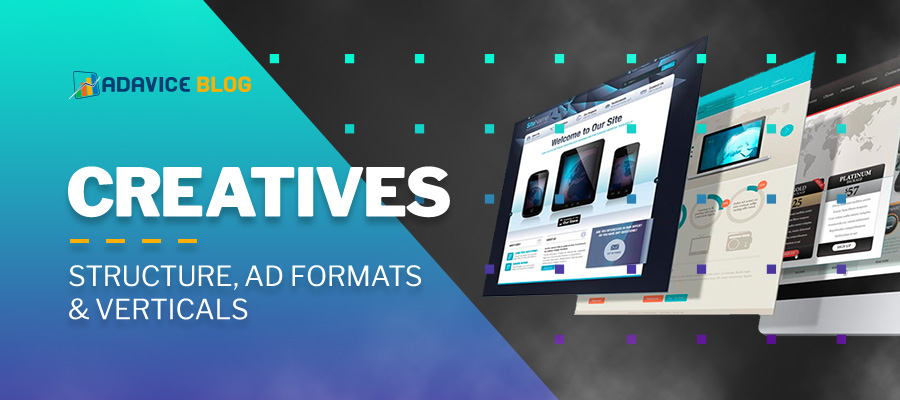 How to Choose the Best Creatives for Your Offers: Successful Campaign Tips!
What are creatives, why are they important and how to choose the most suitable ones? Specifics for ad formats and verticals.
WHAT ARE CREATIVES
In the online advertisement word "creatives" can relate to many things. They are often used to define ad materials. It can be push notification, banner, native ad or video ad. Even your offer itself can be called a creative (ex. your prelander or landing page)! So, basically these are all visuals that help in promoting your campaign.
One user can see millions of ads everyday: on the phone or PC, billboards on the street and pop-ups online and many more. All of them have one purpose - to catch potential client's attention. It is not easy to be remembered in a modern advertising world and creatives are the key to it.
Choosing the right creatives directly affects your campaign's performance. Here we'll talk about how to choose the best ad materials for your offers and thus reach maximum profitability.
CREATIVE STRUCTURE
Creative contents can vary depending on what ad campaign you are launching. For sure, push notifications and banner ads would have different elements.
Promo text;
Main picture;
Icon image;
Call to action.
Take a look at average push notification structure: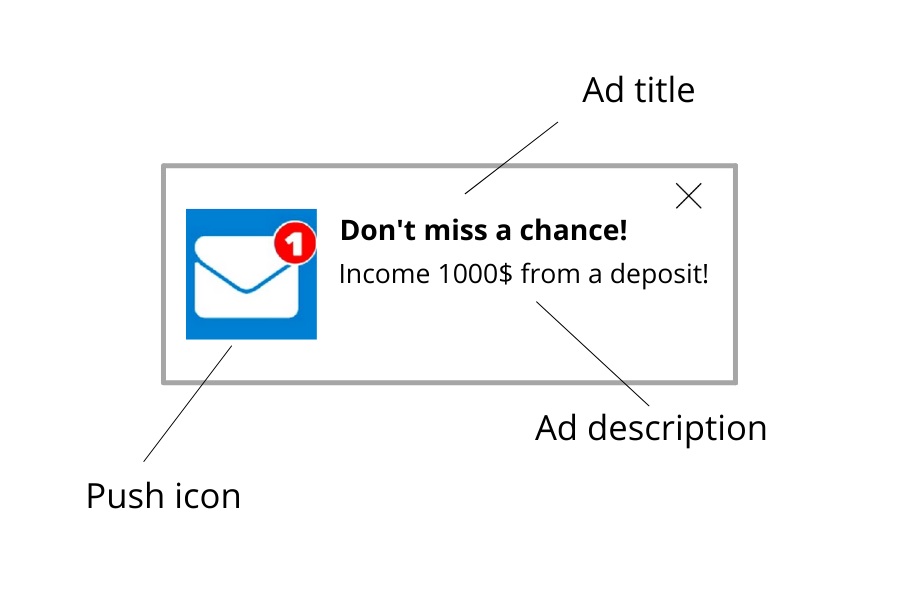 This is a simple example of a creative that can be used. What makes creatives so special anyway? Is it really just a picture and text? Let's dig into it and find out how to choose the best ones to boost your campaign's performance.
CREATIVES SUCCESS POINTS
The main purpose of a creative is to attract users with interesting content and make them engage with your offer. Creatives should be relevant to certain offers and match their targeting (geo, language etc). Make sure to check a few points before starting testing your creatives.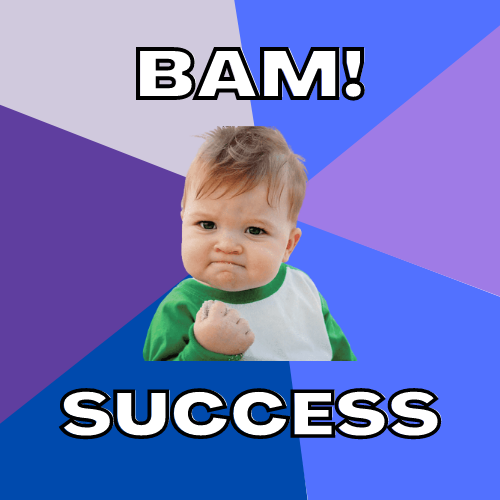 Good-converting creative's should contain:
High quality pictures/GIFs. No matter how great your visual design or idea was, it will get spoiled by low quality pics. Pay attention to the size of the picture should match the length x width requirements on Adavice DSP and device targeting.
Short and catchy text. Don't use long, boring phrases, try to be entertaining. Make sure you give valuable and interesting information about your offer.
No misleading information. Info of the creative should be relevant to the promoted offer. Otherwise users will leave your landing page as soon as they see that it is another offer.
Understandable call to action. For example "Register", "Claim", "Receive a call" etc. Depending on your campaign goal - use an appropriate call to action text.
Use a personal approach. Successful stories, icons that are associated with message notifications we get every day or product logos will help to gain trust in the promoted products.
Use current trends. Thanks to social media there are new info blasts almost every day. Stay tuned in terms of current trends, use such hot topics to stay on the top.
Text and pics showing a clear benefit for the user. User has to be interested in order to complete your target action. Make sure you show him benefits on your creatives (examples: getting money / prizes / bonuses/ discounts, saving time, simplifying work process etc).
Use of numbers. Numbers are cathy and they can trigger positive emotion or desire. For example "get money / bonus" is good but it is still not clear what exactly the user can gain. If you say instead "get $1000 daily / get 300 free spins / 75% sale" it will show the user what the opportunities are, and when clicking on the ad he will be more interested in pursuing the stated goal.
Make sure that creatives you are using correspond with Adavice DSP Content Policy
Note : creatives should not contain prohibited or dangerous content. Adavice DSP follows a worldwide accepted Content Policy and cares about the user experience to provide best-quality traffic.
TIPS FOR CERTAIN VERTICALS
Luckily, over the years marketing professionals have been collecting and sharing their experience in many verticals. Each one has a variety of creatives' options and converting trends on the table.
Here are some tips for the most popular verticals!
Finance
Text: easy profit solutions. Try to make emphasis on time terms of financial offering, money benefits and speed of solution;
Pictures: use pictures of money (with relevant currency), logos of financial institutions or national symbols (flags or colors).
Tip: check what is currently relevant for your Geo. For example: trading gold would work better for East countries, when Crypto or Shares would work better for Western countries.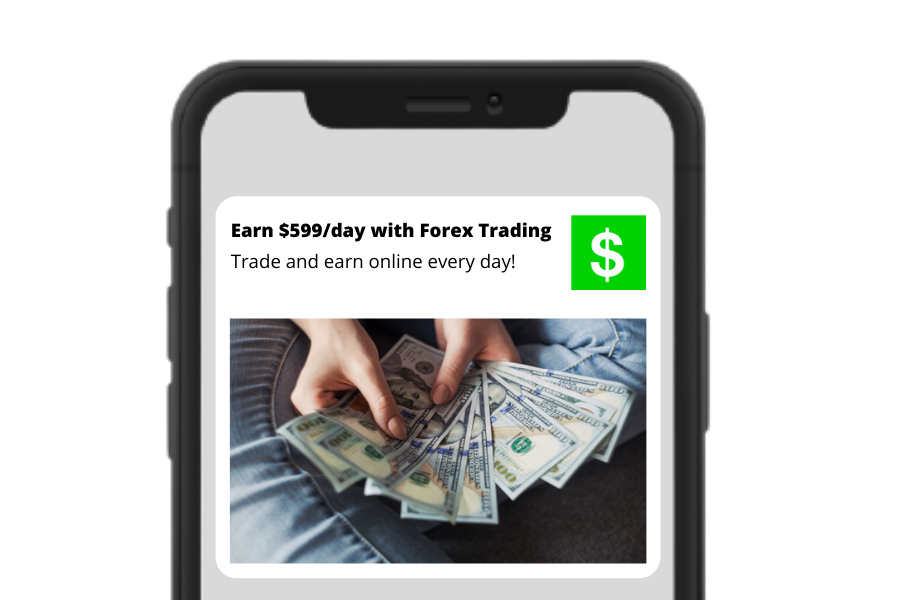 IGambling / Betting
Text: add bonuses info to attract user, use emojis
Pictures: use sport, e-sport related pictures (sportmen, equipment, arenas etc), use relevant flags, promos when promoting certain sport events/matches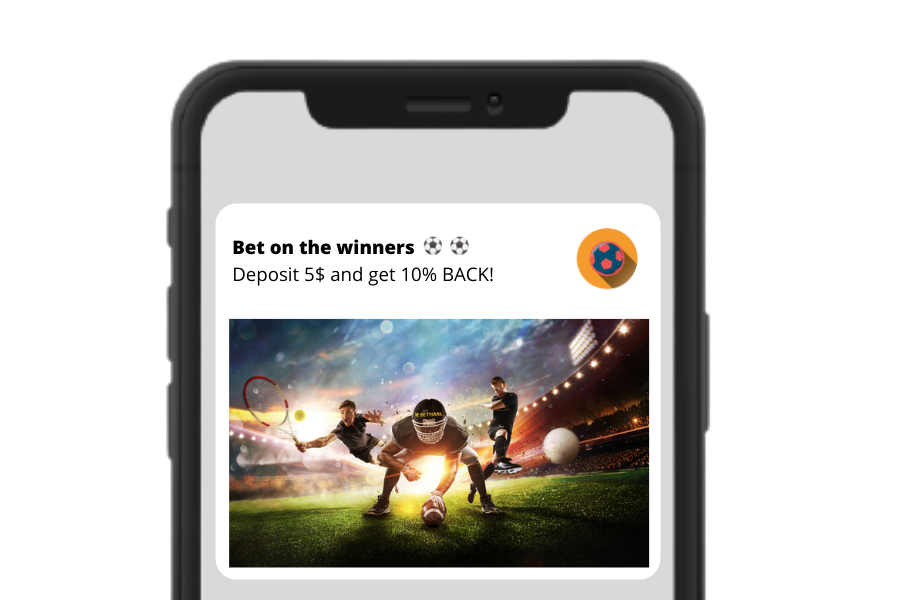 Gambling / Betting
Text: add time urgency (ex. Limited offer, exclusive deal), attract with successful stories & bonuses ("N won 350$")
Pictures: use simple images & icons, use pictures with real people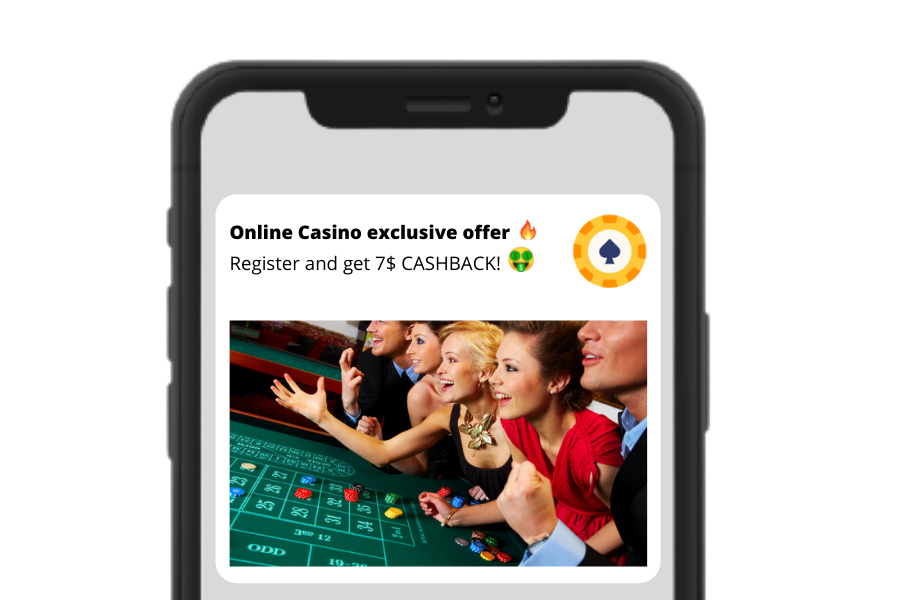 Sweepstakes
Text: mention the prizes, competitions, their time frames and bonuses received;
Pictures: use the pics with wheel of fortune and gift images;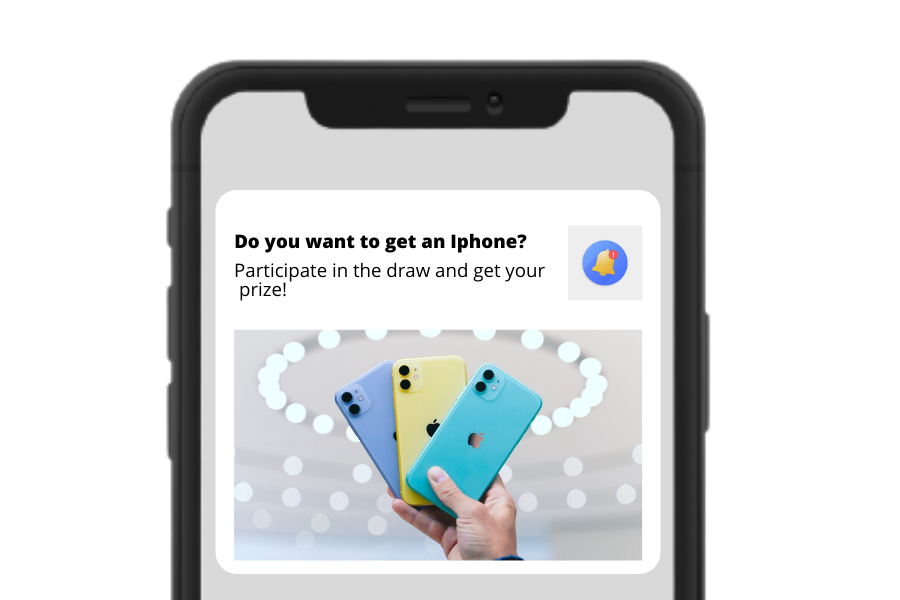 Tools / Utilities
Text: don't use scary statements (ex. "Your device is in danger", "You have N viruses", try to promote the advantages of your product)
Pictures: use the pics with wheel of fortune and gift images;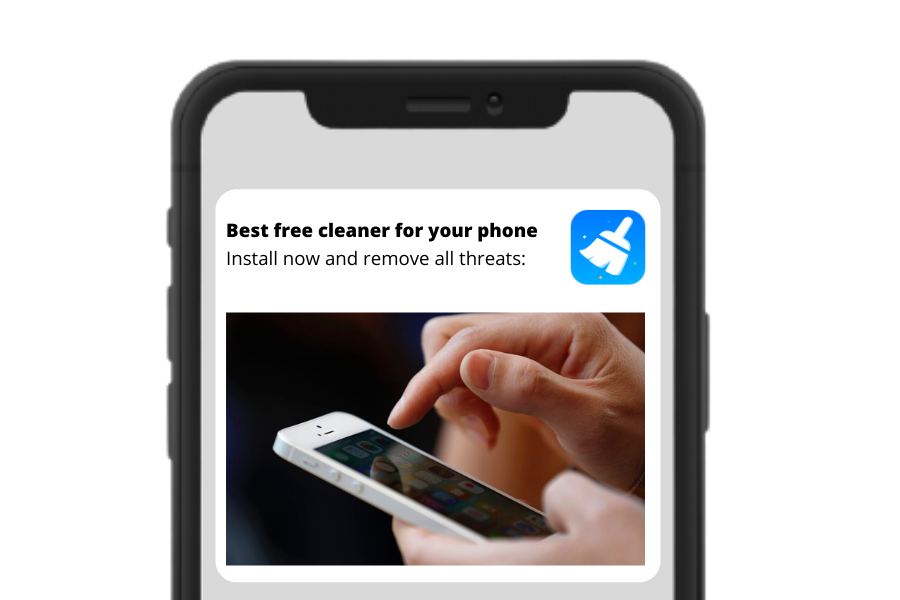 Nutra
Text: add appealing benefits & positive reviews of a product/program, add emojis
Pictures: use pictures related to your product/service (program promo, supplements etc) & health related materials (statistics & visual results)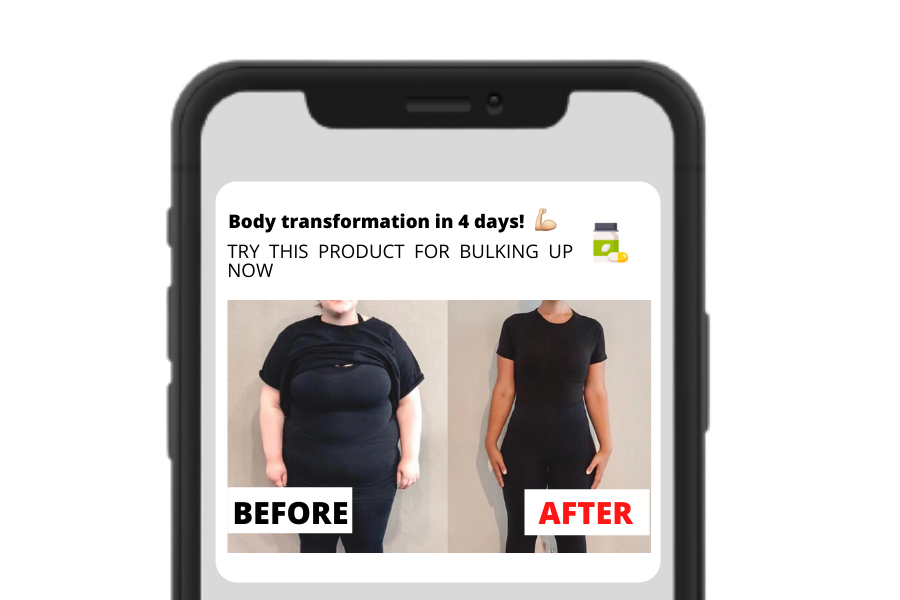 Find more related information in the Verticals Guide. Don't hesitate to ask your manager if you didn't find the info on a certain vertical ;)
AD FORMAT SPECIFICATIONS
As we've covered verticals, let's talk about different ad formats. They obviously need different approaches when it comes to choosing creatives - from image size to promo texts. Here are some suggestions you would probably like to test out :)
Popunders
Popunder ad's creative is the offer itself, as user sees it behind or before his/her opened web tab;
The offer should contain all info on promotion, shouldn't contain fake promises;
Add clear Call to Action: 1 or 2 buttons maximum not to confuse user;
Make a Landing page bright and interesting, it should catch the user's attention in the first few seconds.
Push notifications
Make a push personal: know your target audience and what they want;
Catchy and bright promo pic is a must, attract with your product/offer;
Use simple icons. You can use product logos, similar messenger / notifications icons / or clear icons related to the offer topic;
Pro tip: as inpage push needs an icon only, it is important to choose the right one. Test different ones at the same time!
Native ads
Attract with text: use interest triggering texts (ex. "Did you know...?", "Have you ever tried…?");
Use statistics and numbers as a compelling information;
Big banner is very important: make it emotional and understandable.
Display
Promo text: make your message short and CTA clear, use bold font or bright colors to attract user's attention to the important info.
Banner picture: use on-brand images
In display ads, web or in-app, text and picture work as one (so, keep one design!)
Calendar notification
Text: strategies for previous ad formats can be used, remember that user sees your promo in phone's calendar, which limits the number of characters available
IT'S TIME TO TEST AND OPTIMIZE!
Great, you've selected the creatives specifically for your offer, vertical and ad format. Now it is time to let users see them!
Don't forget the main key points when testing:
Add at least 5-6 creatives per campaign;
Perform A/B testing: change icon, image or text to test more options at once and leave the most converting creative (ps. Change only one parameter at a time for the accuracy of test;
Freshen them up: creatives' performance can drop from time to time, so make sure you're adding new ones to increase Click Through Rate.
Every offer and case is unique. Be free to test multiple ideas and create your own working model. Mix and match the pictures, texts and promos to make the ultimate creatives specifically for your promotion!
Share your inspiring creative solutions with us (support@adavice.com) and get a bonus from our team!
Stay ambitious and good luck ;)