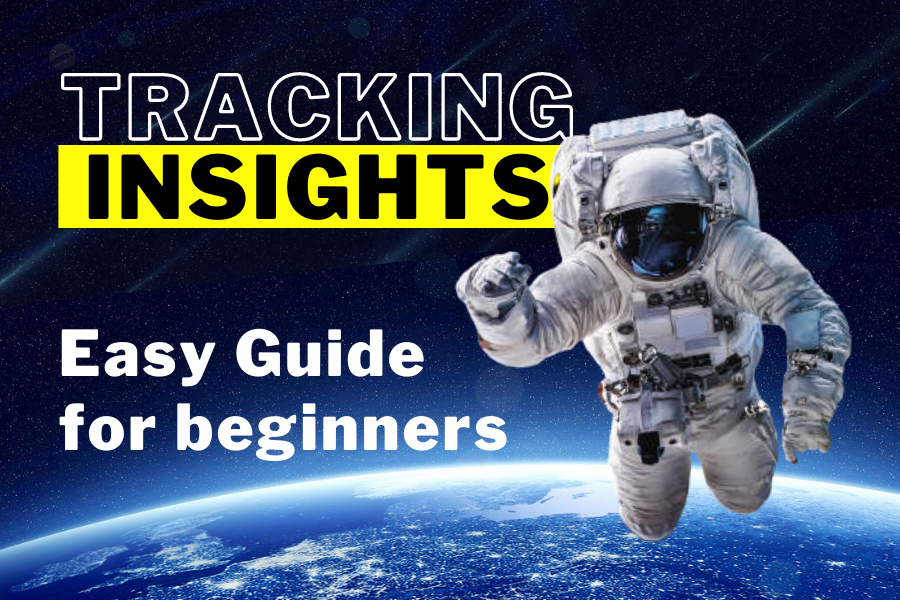 Tracking 101: Easy Guide. Skyrocket Your Way to the Optimization and Profit World
Find out the basics of tracking - the best tool for optimization. What it is, how to use it in improving a campaign's performance and how to set it up on Adavice DSP!
Tracking is a crucial setting when it comes to campaign's optimization. It is important to know the amount of traffic, conversions, and your CPA (cost per action) to improve the campaign's performance.
For setting a tracking you will need to have the basic understanding of this tool.
Let's cover all the main points like what it is and why exactly it is necessary.
What is tracking?
Tracking is a process of collecting data for analysis and optimization of a campaign. It helps in getting the additional insights with the use of tracking parameters (see the list of available parameters). Think of it as a postman that brings you real-time updates on your campaigns! All you have to do is to add relevant parameters to your tracking links while setting up the offer and we will place this info into your parameters accordingly.
In result you get all the fresh info to analyze and improve your indicators based on it.
Let's see how it works in details:
You created your campaign on Adavice DSP and set it live. We record each click on your campaigns ads and apply a unique click ID to it, so when there will be a conversion, you would know the exact user /click it came from.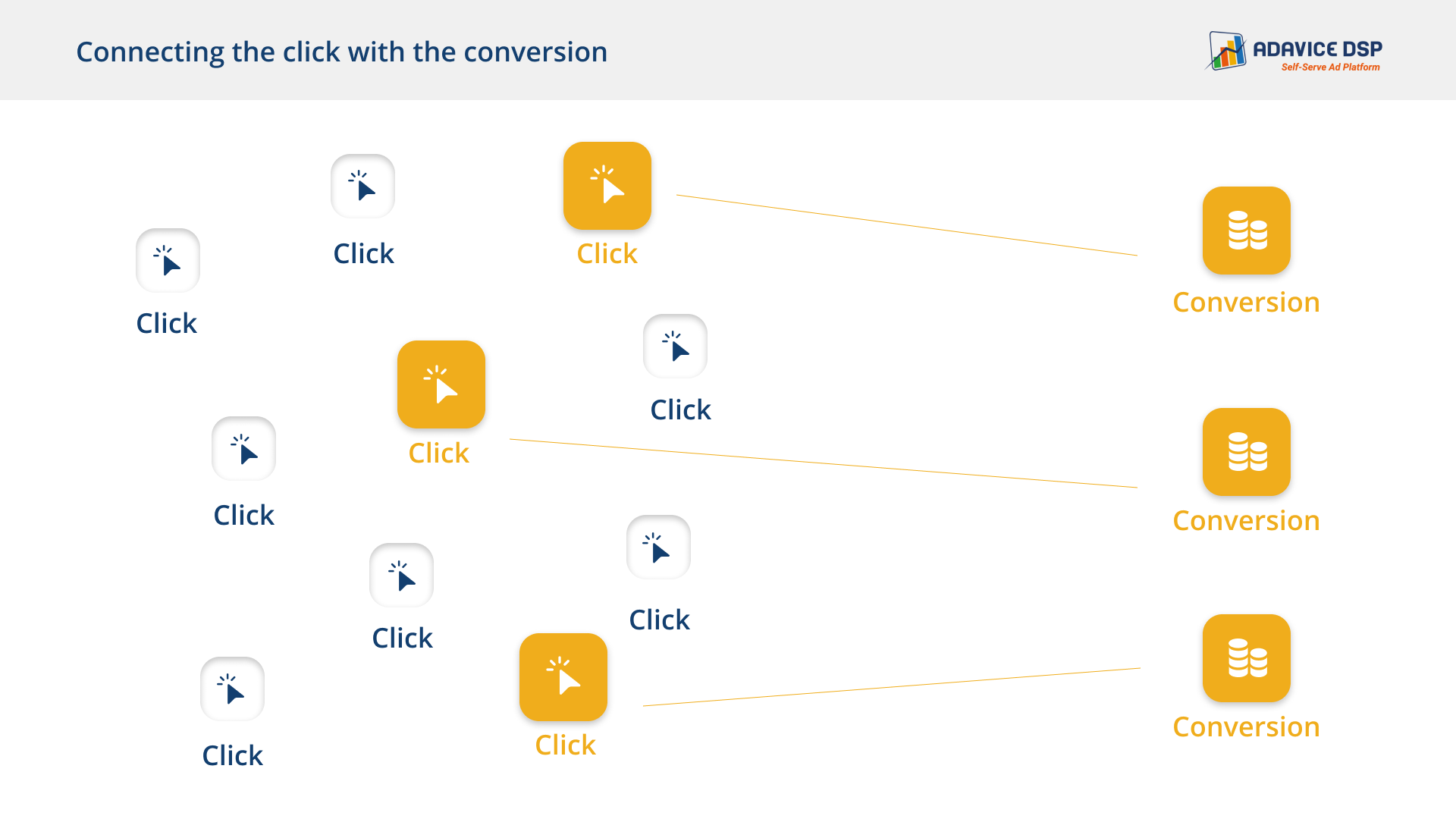 Our system records all basic information about a unique click as well as info related to your campaign on Adavice DSP:
Basic Info:
Click time, Device type, Geo location, device, browser, user agent, OS type etc.
Campaign info:
Campaign ID, Adavice traffic source IDs, creative id etc.
That is how we get maximum information about each click on your campaign, so when there will be a conversion, you could understand from which source, settings it came and optimize accordingly.
Why is it worth it?
There can be different goals when running a campaign: lead generation, subscription, sale, raising brand awareness and many more.
But in the end, it's all about making profit. Gain income and spend your capital wisely with tracking!
2 main things that tracking helps with are: conversion tracking and optimization.
Conversion tracking
Track what is needed for you: a registration, subscription, download, purchase or even a deposit!
As we discussed in the previous paragraph with the help of a unique clickid you get to see all the important data about a conversion (type of device, OS, browser etc).
We strongly recommend setting up tracking integration with Adavice DSP and fire conversions back to us. After doing that you would see all the info about unique conversions and traffic in the Reporting panel, so it will be easy to monitor and optimize the campaign's performance.
For doing that you would have to set up the Server to Server (S2S) integration with Adavice DSP using a postback URL or adding the code to your landing page.
Here is how it works: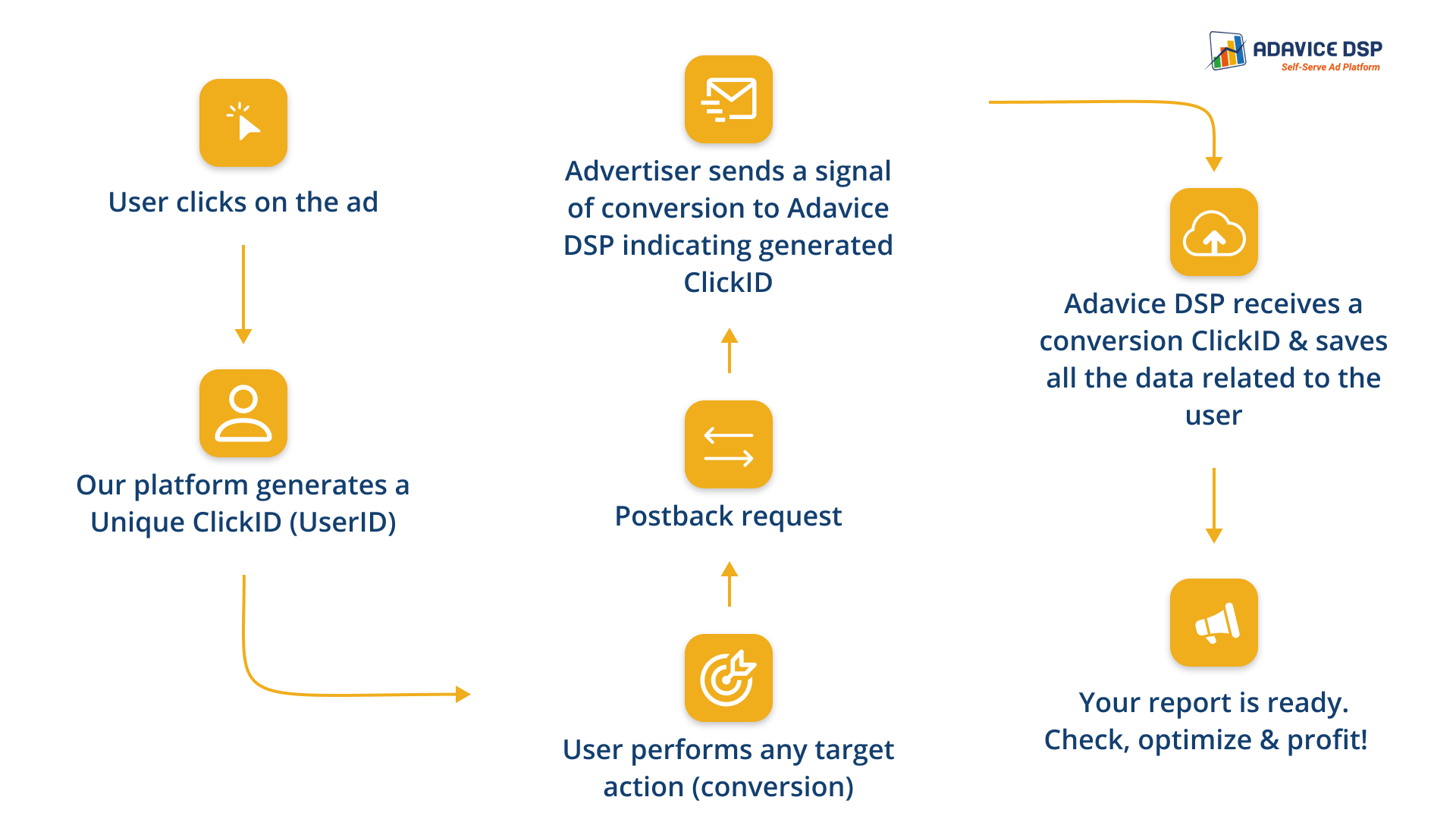 There are 3 available variants of tracking integration, so you can choose the one that fits you the most! We'll talk about them in detail later in the article.
Activate the optimization process with the use of suggested dynamic parameters. Find sources, creative ids, campaign ids and many more in 1 click!
As a big plus of tracking integration, you get to enable "Optimization rules" in the settings of your campaign and let our system analyze your statistics and optimize based on it. Use this feature in:
setting the automatic rules for sources/creatives/OS (for certain CPA target)
excluding/including certain sources
raising bids on certain sources/OS
With the help of tracking you can record your Conversion Rate:
CR = (Number of conversions÷Amount of Clicks) 100%
Use it in understanding the effectiveness of your ad campaign. The higher the CR the better ;)
Оptimization
Now with conversion tracking you can step it up with more in-depth optimization.
Let's see it on a real example:
One of our clients runs a campaign in Greece. Payout for registration is 20$. So, everything (source, creative, OS etc) that has cost or CPA more than payout will bring him losses. On Reporting panel he sees such results:
As a conclusion, source 2645, should be excluded because cost is higher than payout (20$) and there were no conversions. Source 8625 must be stopped as the CPA is almost equal to payout (profit from this source will be small). Lastly, source 2182 didn't bring any conversions compared to others and spent a lot, thus also needs to be turned off.
The main goal of campaign's optimization is increasing your profits. You choose what to optimize or target in order to result in higher margin and well-performing offers.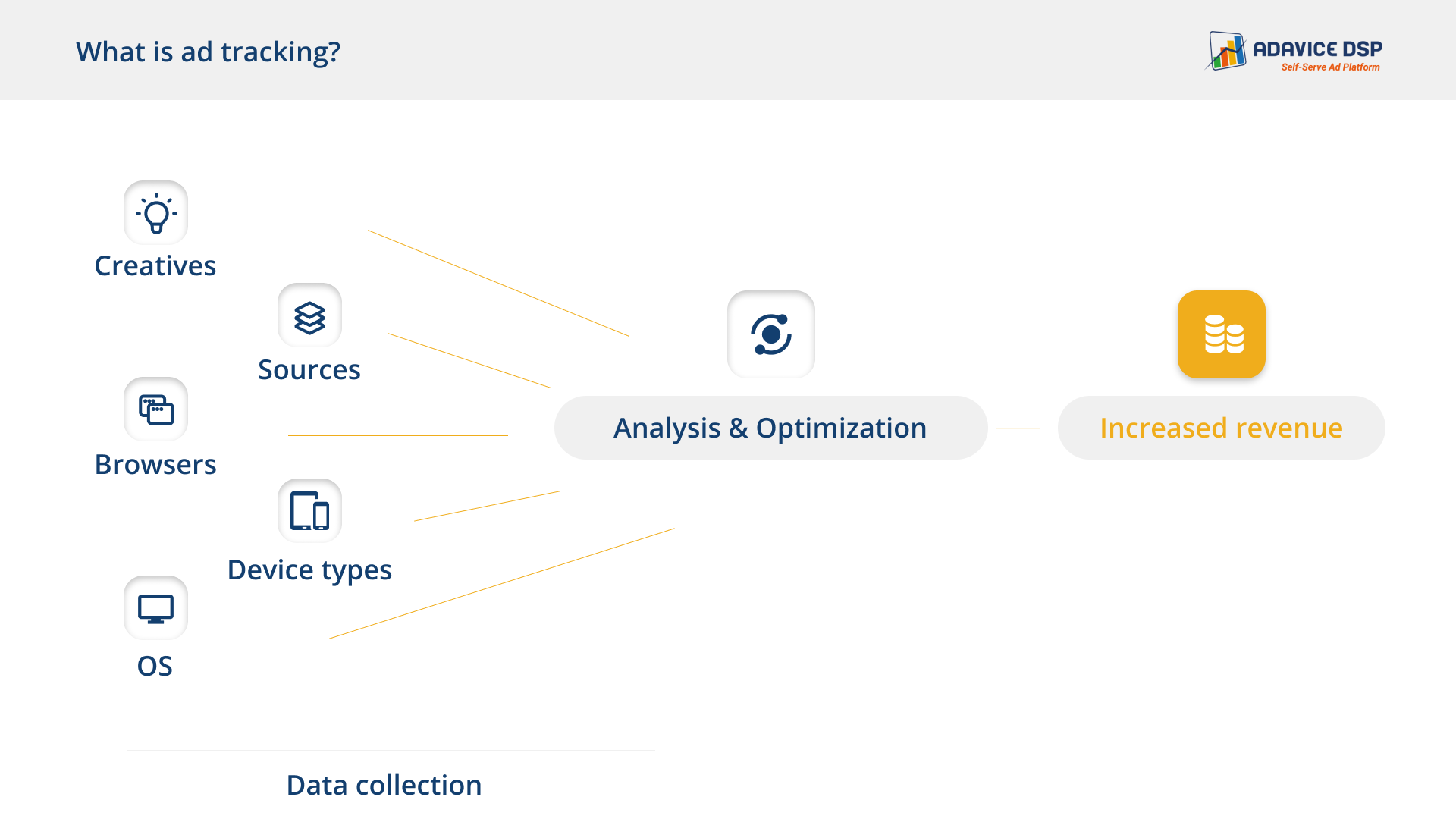 This was just 1 example. Check your results with breaking down by creatives, devices, browsers, and other settings. Remember that all settings influence your campaign's performance.
Set up the tracking and get all of the advantages possible. Find out the possible variants below.
Types of tracking
There are 3 types of Tracking available on Adavice DSP: pixel, image and postback request.
The options are available when you create a new campaign:

Let's see each type in details:
"Pixel" & "Image" is perfect if you'd like to insert code into your page for tracking pixels. All you need to do is copy and paste the displayed code (once clicked) into your conversion page (for example: a thank you page). Image pixel will capture users who got to the page where the pixel is installed. Make sure it is inside the BODY element.
"Postback" tracking is suitable if you use a tracking link for pixels. Use the postback URL: http://rtb.adx1.com/log?action=conversion&key=[CLICK_ID]
Don't forget to replace the token [CLICK_ID] with the relevant parameter of your tracking platform.
By choosing "None" no tracking will be set - so you won't be able to fire the conversion back to Adavice DSP, and see pixels in our Reporting panel. But you can still use all the available parameters and pass the info from Adavice DSP to your tracking platform
Tracking parameters
When creating a new campaign, you can see the available macros. Check a list of parameters for seeing info about a unique conversion on your side.
Our partners
For your convenience we've partnered with some Tracking platforms to make the integration even easier! Find Adavice DSP tracking template on different tracking platforms (with examples) here.
Contact Adavice DSP managers or write to support@adavice.com for additional information on the valid offerings.
Stay tuned for more guidelines and traffic secrets!