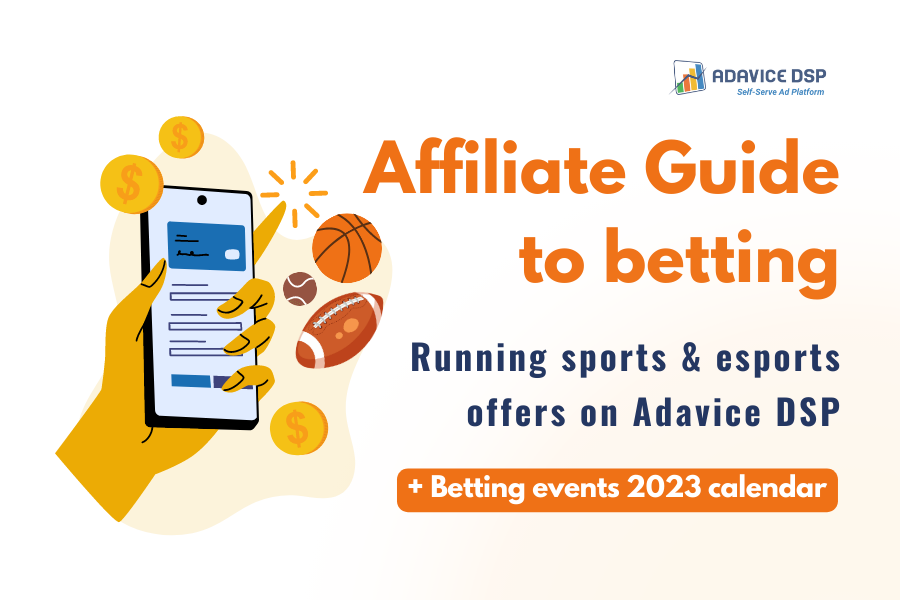 It's Worth Betting On It: Successful Promotion Of Betting Campaigns
Get ready to launch sports & esports betting campaigns on Adavice DSP: hottest GEOs and betting calendar
Bet on it!
You must have heard "betting" a lot of times before. It remains one of the most popular online phenomena and affiliate marketing niches. Betting vertical refers to sports and esports online betting. Fans all around the globe gather to watch the hottest matches and bet on their favorite players. The popularity of online betting grows yearly and its value is estimated to grow by 9% in 2023 reaching 88.65 billion dollars (reference: Research And Markets).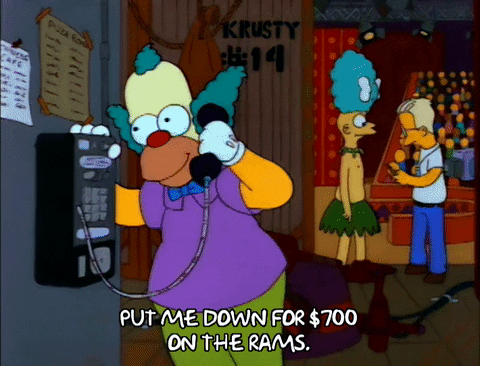 The biggest distinction in the betting vertical is between the sports and esports offers. Sports niche includes betting on sports events and teams, while esports focuses on video game betting. Check out the most popular subtypes of both niches in the picture below: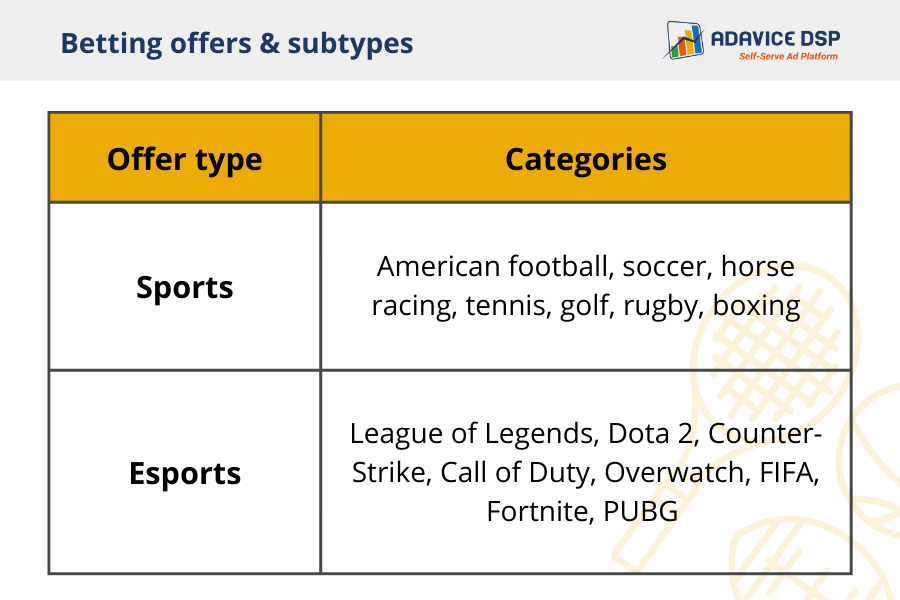 From the affiliate side of the deal, the goal is to attract people to bet on the promoted landing page. One of the distinct betting offer specialties is the bonuses for new users. Choose from a few popular bonus options:
- sign-up & deposit bonus
- free bets for new users
- risk-free bets (getting money back in case the first bet is not successful)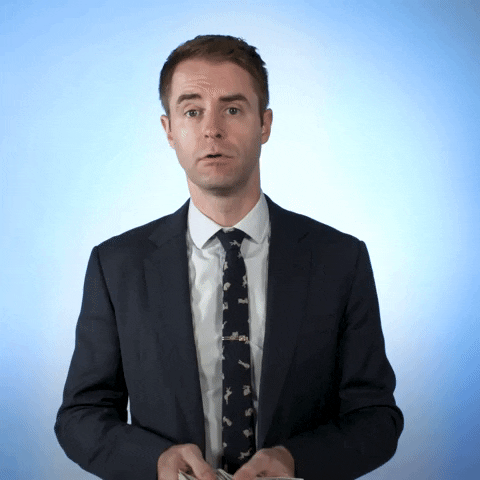 How high is the risk?
Let's talk in detail about the advantages and disadvantages of betting vertical and its promotion. We BET you want to run a betting campaign and profit from the massive sports/esports events. Are there any risks an affiliate should consider before marking the match date in the calendar?
Pros of betting offers:
- Uprising demand: Betting along with gambling offers keeps their high popularity. Sports fans and supporters are adventurous and adrenaline-driven and their passion grows with every next spectacular event. As affiliate marketers, we aim to know the audience and match the inexhaustible demand!
- Easy to start: Betting offers are a great start for beginner affiliates! Finding the offer and creating the ad sets for the test may be frightening but Adavice Team is here to help you and show that it's not as hard as it may seem. With our top-tier traffic and optimization tools the game gets x2 times easier! A big cherry on top of the betting vertical is that it's popular all around the globe and affiliates have a wide choice of GEOs to start with!
- Multiple events: Sports and esports events are held periodically. You may find some seasonal events, but even then they come in patches. The regularity of sports matches is in the affiliates' favor: you get more chances to run campaigns and test the fantastic strategies!
Cons of betting offers:
- Regulations: No one likes them. Betting vertical is quite capricious and some GEOs can have stricter rules than others. Before launching, remember to cautiously check the selected GEO's regulations with the advertiser and traffic source.
- Deposit-based flow: The main action of the betting offer is the user's deposit. The creatives and the funnel must work together and lead the user till the desired action is performed. The affiliate needs to understand that the amount of work put into the betting campaign will pay off in double amount.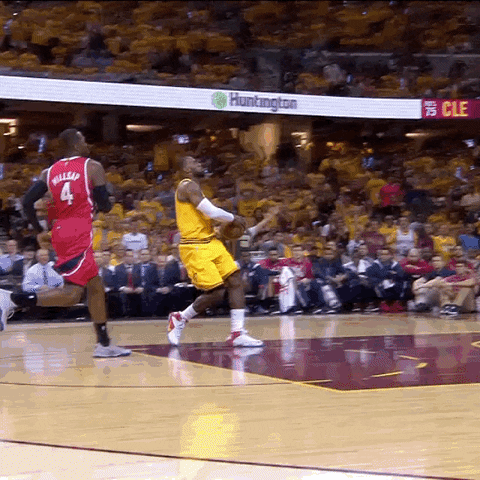 Betting target audience
Previously we discussed the importance of the target audience in affiliate marketing. Is it possible to run campaigns without knowing yours? Of course, you can launch "blindly" but it significantly increases your testing resources, such as money and time.
Before launching a betting campaign it is important to have some background knowledge. Use the Internet and other scientific materials to gain helpful insights on the selected offer category. Moreover, don't hesitate to contact your personal Adavice manager to know the recent updates and trends.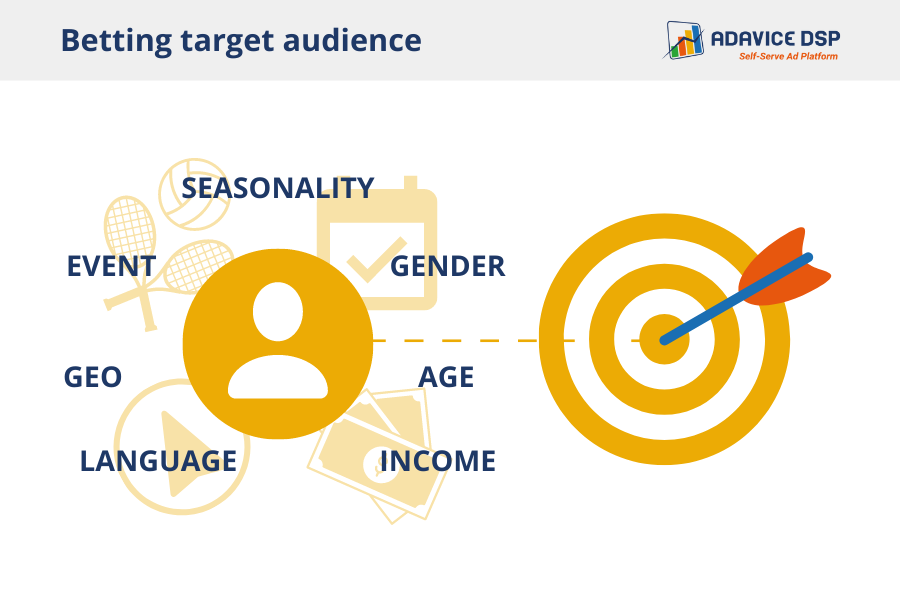 These simple steps will help build your target audience's portrait:
1) Gender
2) Age group
3) Geo settings (location & language)
4) Event category (sports/esports)
5) Seasonality and duration of the betting event
6) Users' income level
7) Betting behavior (frequency of betting, betting amount & motivation)
PRO TIP: Still struggling with identifying your target audience? Check our advanced guide on the target audience to learn more!
Funnel
Now that we finished discussing the preparation of the betting campaign, let's talk about the betting funnel.
Choosing betting landings & prelanders is easy when you know what you're searching for:
- impressive colorful design
- big, visible text
- clear & persuasive CTAs
- sports/esports-related pictures
- bonuses for users
- effects/moving details (optional)
The betting funnel consists of an offer with a registration field preceded by an interactive prelander. It is important to use the incentive CTA buttons on prelanders, like "JOIN NOW" or "START BETTING". On the landings, you will usually find the easy registration forms and/or the direct betting account top-up. Take a look at some betting prelanders examples below: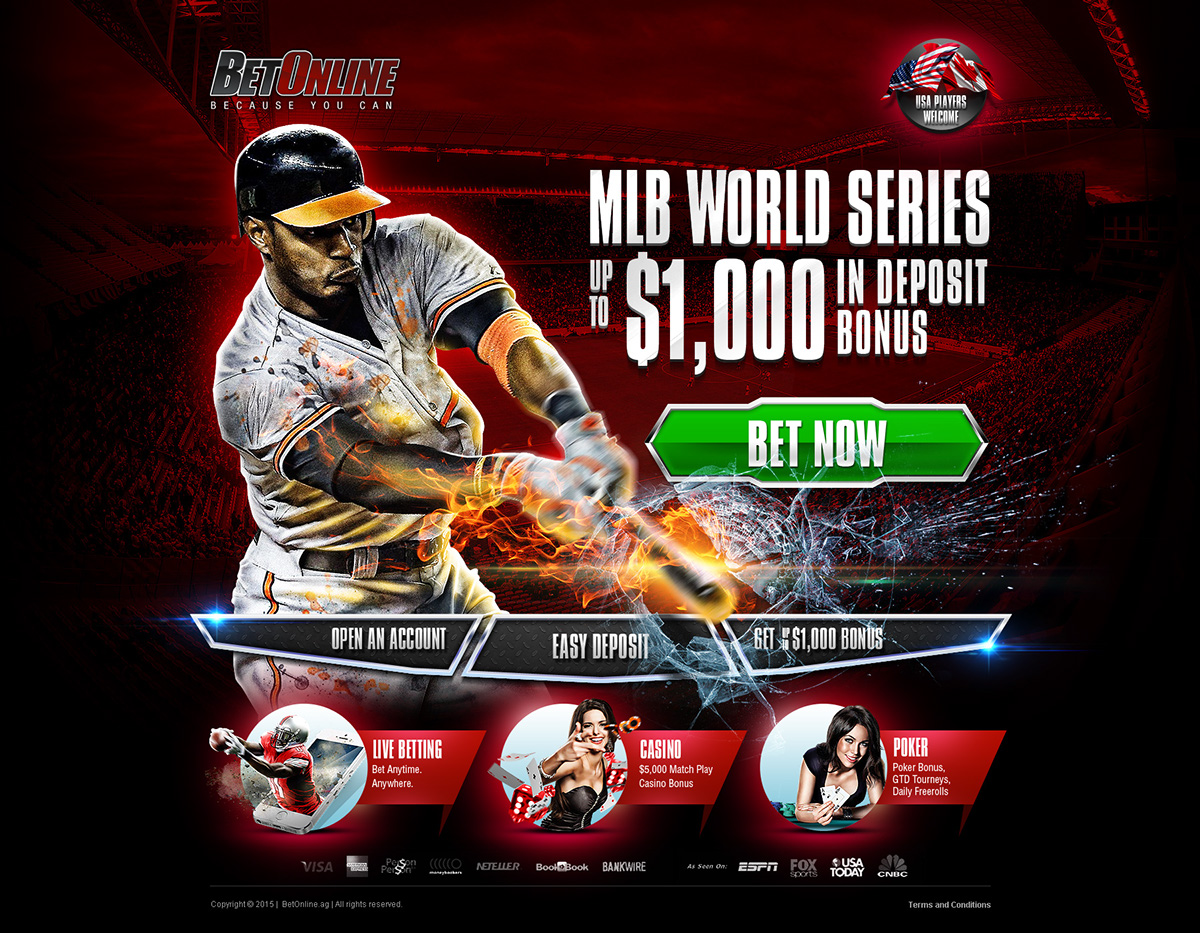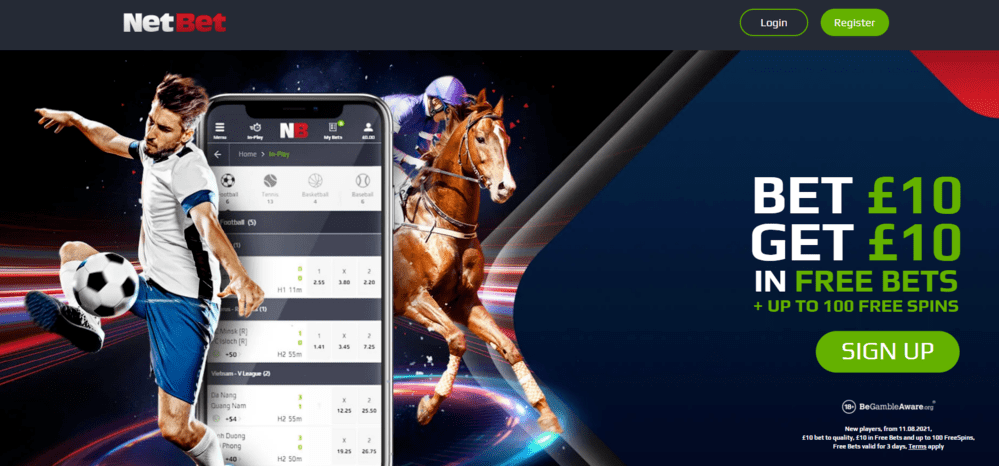 Creatives
How to choose a set of betting campaign creatives for testing? First of all, let's recall what makes an ad good.
1) Picture: High quality and the visuals matching the offer are a must!
2) Ad text: Does your text make the user immediately click on it? If not, try using attractive phrases about the promoting sports event, successful bets, and bonuses for new users.
3) Emojis: We recommend using emojis because they attract at the first sight and spice up the message 🏀🔥
4) Icons: Affiliates tend to forget about them but icons as important. Test a few to find concepts (urgent messages, event-related icons, and bonuses) to find the ultimate model for your offer.
PRO TIP: Test creatives in sets of at least 5. When testing ads change 1 parameter at a time. For example, test similar ads with different main pictures to determine the highest CR.
Here are examples of betting campaign push ads: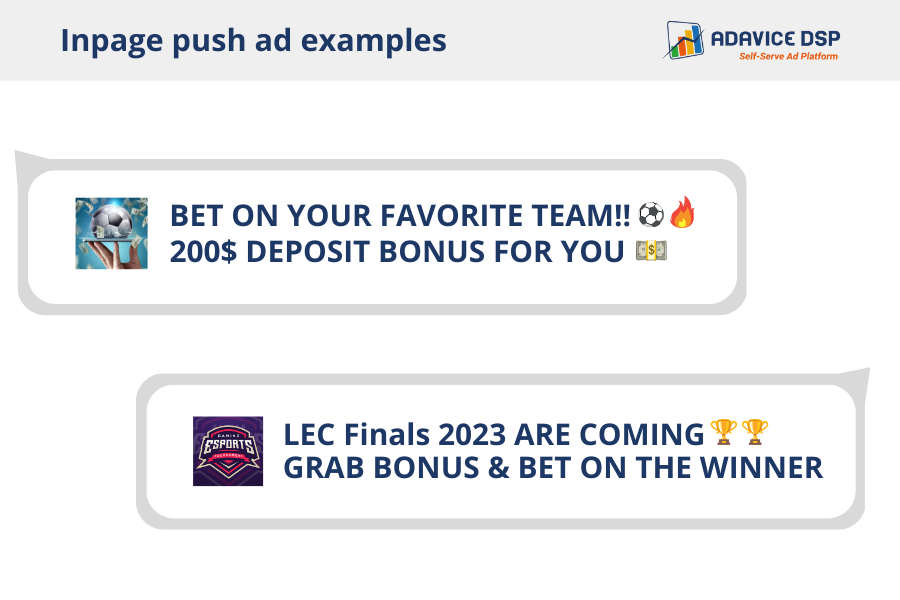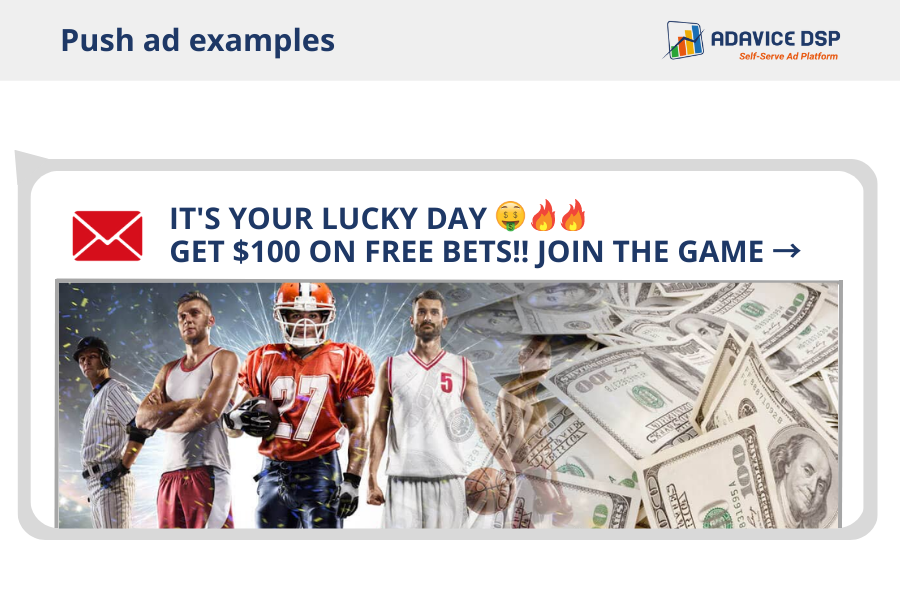 The push ads' main goal is to catch users' interest and lead them through the funnel. Brighten up the colors and use messages to build up players' desire to bet.
Targeting & tips
We got to the most exciting part - setting up the campaign's targeting! In this section, we'll touch upon the basic campaign settings and best GEOs to start with!
Check our Blog's Help station to find out more about Adavice DSP features, micro bidding, and auto-optimization tool!
Adavice Team recommends running betting on:
- popunders
- classic push
- inpage push
PRO TIP: We suggest launching in the local evening time to target users outside of work hours.
The best GEOs to start with the betting campaign with are (as of April 2023):
- Canada
- Brazil
- UK
- Netherlands
- Germany
- Spain
- Italy
- Nigeria
- Tanzania
- Kenya
- South Africa
- Turkey
- India
- Bangladesh
- Thailand
- Indonesia
- Philippines
- Singapore
- Australia
Find more articles on other verticals in our Blog's Insights ;)
Betting calendar 2023
Let's review the hottest sports and esports events of 2023! The upcoming season is full of grand matches, including multinational ones. Keep an eye on the news and official sports resources to check the event dates. The big ones: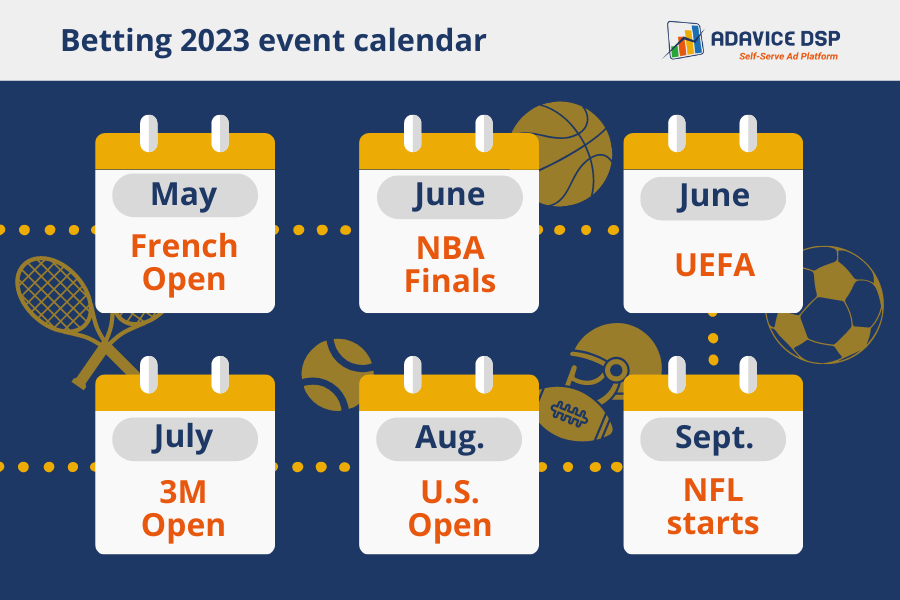 Sports events 2023:
| | | |
| --- | --- | --- |
| Month | Event | Geo |
| April | Indian Premier League | IN, BD, etc* |
| May | Indian Premier League | IN, BD, etc* |
| May | Kentucky Derby | US |
| May | PGA Championship | US |
| May | The Preakness Stakes | US |
| May | French Open | AU, ES, IN, etc* |
| May | PGA Charles Schwab Challenge | US |
| May | Indianapolis 500 | Multinational* |
| May | Men's World Boxing Championships | IN, CU, US, DE, etc* |
| June | NBA Finals | US, CA |
| June | NHL Finals | US, CA |
| June | the Memorial Tournament | US |
| June | RBC Canadian Open | CA, US, etc* |
| June | The Belmont Stakes | US, etc* |
| June | United States Open Golf Championship | US |
| June | The Travelers Championship | US |
| June | Rocket Mortgage Classic | US |
| June | Uefa Champions League | Multinational* |
| June-July | AFC Asian Cup | IN, JP, CN, KR, SA, etc* |
| July | Wimbledon | US, UK, AU, IN, etc* |
| July | John Deere Classic | US |
| July | MLB All-Star Game | US |
| July | Scottish Open | Europe* |
| July | The Open Championship | Multinational* |
| July | 3M Open | US |
| July | Tour de France | Multinational* |
| August | World Athletics Championships | IN, DE, GB, etc* |
| August | World Badminton Championships | IN, CN, JP, DE, ect* |
| August | NFL Hall of Fame Game | US |
| August | Wyndham Championship | US, etc* |
| August | FedEx St. Jude Championship | US, etc* |
| August | Tour Championship | US |
| August | NCAA footdall regular season | US |
| August | U.S. Open | US, ES, IN, AT, etc* |
| September | NFL regular season | US |
| September | NFL (week 1-4) | US |
| September-October | Asian Games | IN, CN, KR, JP, PH, etc* |
| October | NFL (week 5-8) | US |
| October | MLB playoffs and World Series | US |
| October | NBA regular season | US, CA |
| October | NHL regular season | US, CA |
| October-November | Cricket World Cup | IN, AU, NZ, etc* |
| November | NFL (week 9-13) | US |
| November | NCAA basketdall regular season | US |
| December | NCAA footdall conference championship games | US |
| December | NFL (week 14-17) | US |
| December | NBA Christmas | US, CA |
| December | Orange Bowl | US |
| December | NCAA footdall semifinals | US |
*check event corresponding resources
Esports events 2023:
| | |
| --- | --- |
| Month | Event |
| May | BLAST.tv Paris Major 2023 |
| May | Intel Extreme Masters Dallas 2023 |
| May | FNCS 2023 - Major 2: ME Grand Finals |
| May | FNCS 2023 - Major 2: NA/OCE/BR/EU/AS Grand Finals |
| May | League of Legends Mid-Season Invitational 2023 |
| May | BLAST Major Copenhagen 2023 |
| June | 2023 Split 2 Playoff |
| June | BLAST Premier: Spring Final 2023 |
| June | DreamHack Dallas 2023 |
| June | Red Bull Contested |
| June | DreamHack Summer 2023: Jönköping |
| June | Collegiate Rocket League 2023 - World Championship |
| June | Masters Tokyo |
| July | BLAST Premier: Fall Groups 2023 |
| July | Intel Extreme Masters Cologne 2023 |
| July | Bali Major |
| July | Gamers 8 2023 |
| July | FNCS Major 3 |
| July | Gamers8 2023 |
| July | RLCS 2022-23 - Spring Split Major |
| August | Gamers8 2023 |
| August | ESL Pro League Season 18 |
| August | LEC Finals 2023 |
| August | RLCS 2022-23 - World Championship |
| August | Gamers8 2023 |
| August | VALORANT Champions 2023 |
| September | 2023 League of Legends World Championship |
| October | Intel Extreme Masters Fall 2023 |
| September | FNCS 2023 Global Championship |
| September | The International 2023 |
| November | BLAST Premier: Fall Final 2023 |
| November | BLAST Major USA 2023 |
| November | VCT 2023: Game Changers Championship |
| December | BLAST Premier: World Final 2023 |
*check participants on corresponding resources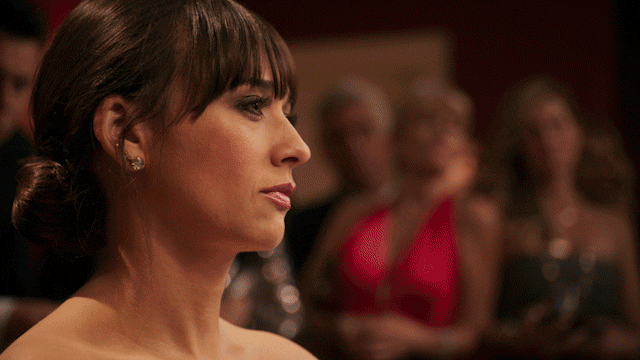 We look forward to helping you launch betting campaigns on Adavice DSP! Contact us at sales@adavice.com and share your amazing launching and optimization experiences :)