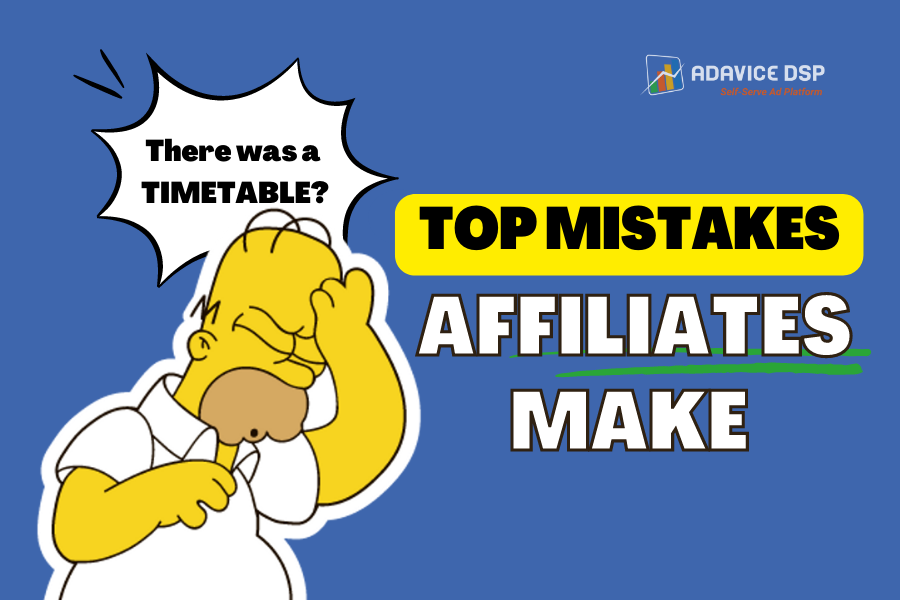 Top Mistakes Affiliates Make when Launching Campaigns: Save this Checklist!
See how to avoid top mistakes when setting the campaign. Get a pro checklist with specific benchmarks to decide how long you should test your campaign.
As one smart guy, Bram Stoker, said: "We learn from failure, not from success!"
We in Adavice DSP share the same mindset. Being an online marketing agency ourselves we can totally relate to the struggles advertisers face launching and optimizing the campaigns. It is a big learning process and eventually you make mistakes.
But what can you do about it? Learn from it! And you don't even have to make those mistakes and take the money loss. You can simply take the knowledge and imply it to your practice.
Our Team has collected the top common mistakes the affiliates make when launching their campaigns. Check them out and make sure your campaigns are set right! :)
A. COMMON MISTAKES IN CAMPAIGN SETTINGS
The first step you have to check when creating a campaign are the settings. It is important to make sure they match your campaign's goals and targeting.
Check the list of the biggest mistakes when it comes to launching:
1) WRONG TARGETING
Make sure your geo, device, language, browser etc are set corresponding to your offer specifics. If your Landing has mobile device orientation don't include desktop traffic and focus on your audience.
2) TOO LOW OR WAY HIGH BIDS
Setting a low bid will result in slow campaigns' running, often with no results. In contrast, setting a high bid will make the system spend it very fast leaving you no time for optimization. For your convenience you can check recommended rates based on the current competition (keep in mind that if you need big traffic volumes, it makes sense to set a higher rate).
Recommended rate in campaign settings: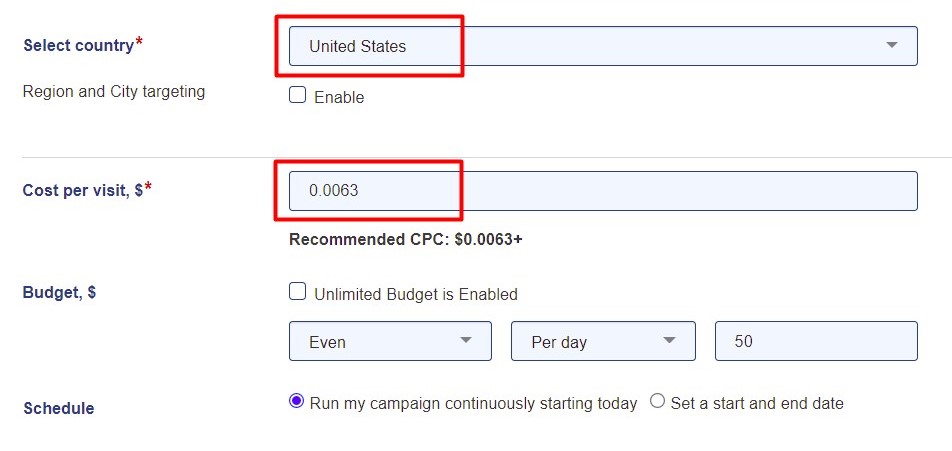 Another option to check the recommended rate is to go to 'Insights' tab, select ad format, device and country: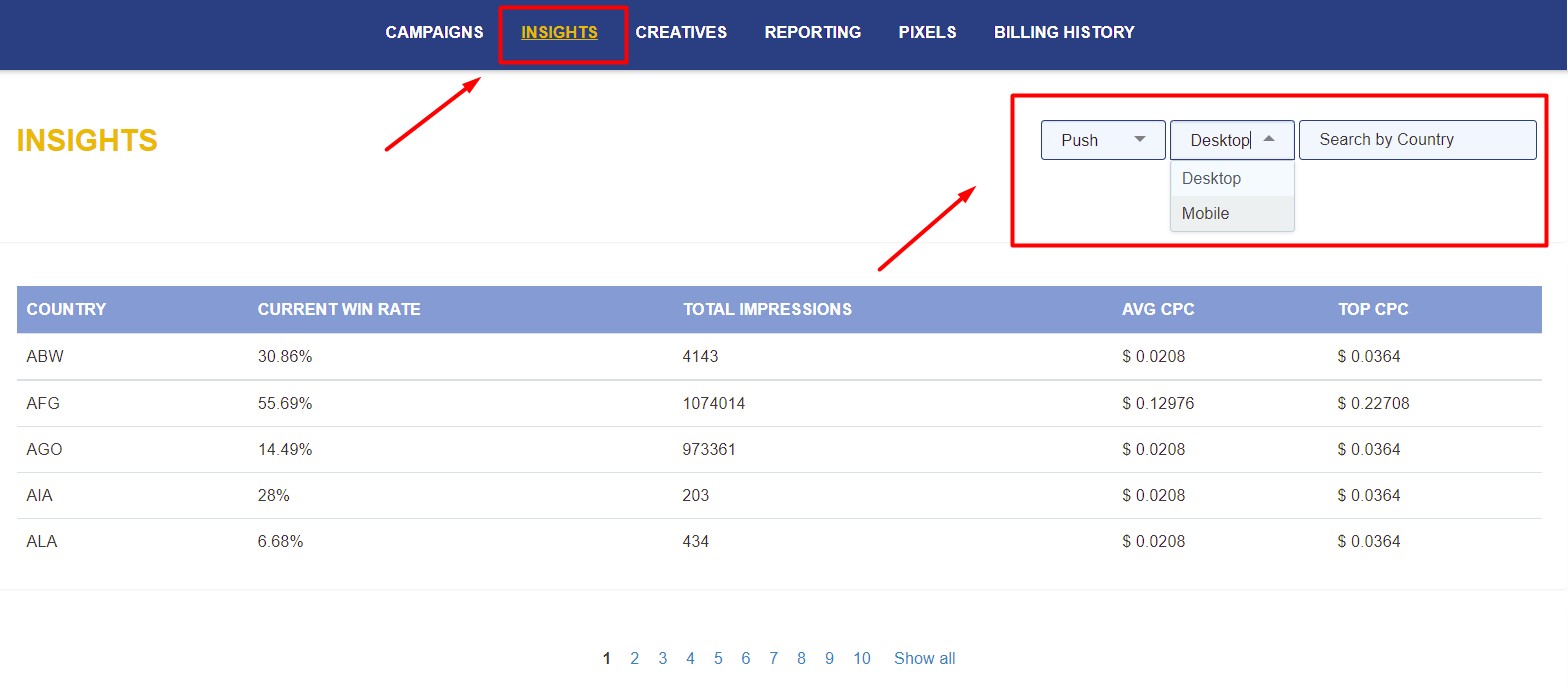 3) DAILY BUDGET DOESN'T MATCH YOUR GOALS
When deciding what budget to set, think of the following:
1. How many settings you want to test (e.g: 4 push creatives);
2. What is the appropriate amount to test 1 setting, and the total amount for all accordingly;
3. How many days you want the test to run;

The common mistakes here are:
1. Setting up an unlimited budget - thus there's risk of losing all your balance on low performance settings.
2. Setting up a too low budget - takes a long time before you can start optimizing.
3. Setting up a too high budget - makes it much more difficult to optimize in time, and keep stable growth.

So don't run your campaign for ages or spend your first testing budget in 10 minutes. We recommend setting a daily budget to keep it limited and have enough time for analysis and improvement. Ideal daily budget depends on your campaign goal. In case you are not sure which daily budget to set - consult with your Adavice manager.
Note, there are 2 types of budget spending you can select: Even and ASAP. Again - choice depends on your campaign's goal. If you want to check and optimize we suggest choosing "Even" so the budget will distribute smoothly during the selected time period in a day . ASAP type suits for campaigns that need a quick test or have narrow targeting and require help to push more traffic volumes.
4) TARGETING WRONG SOURCES
On Adavice DSP there are 4 source groups: premium, standard, remnant and new. The common mistake is to start with all of the sources in one campaign. What we recommend to do is to select the "premium" category at first as the conversion rates are often higher.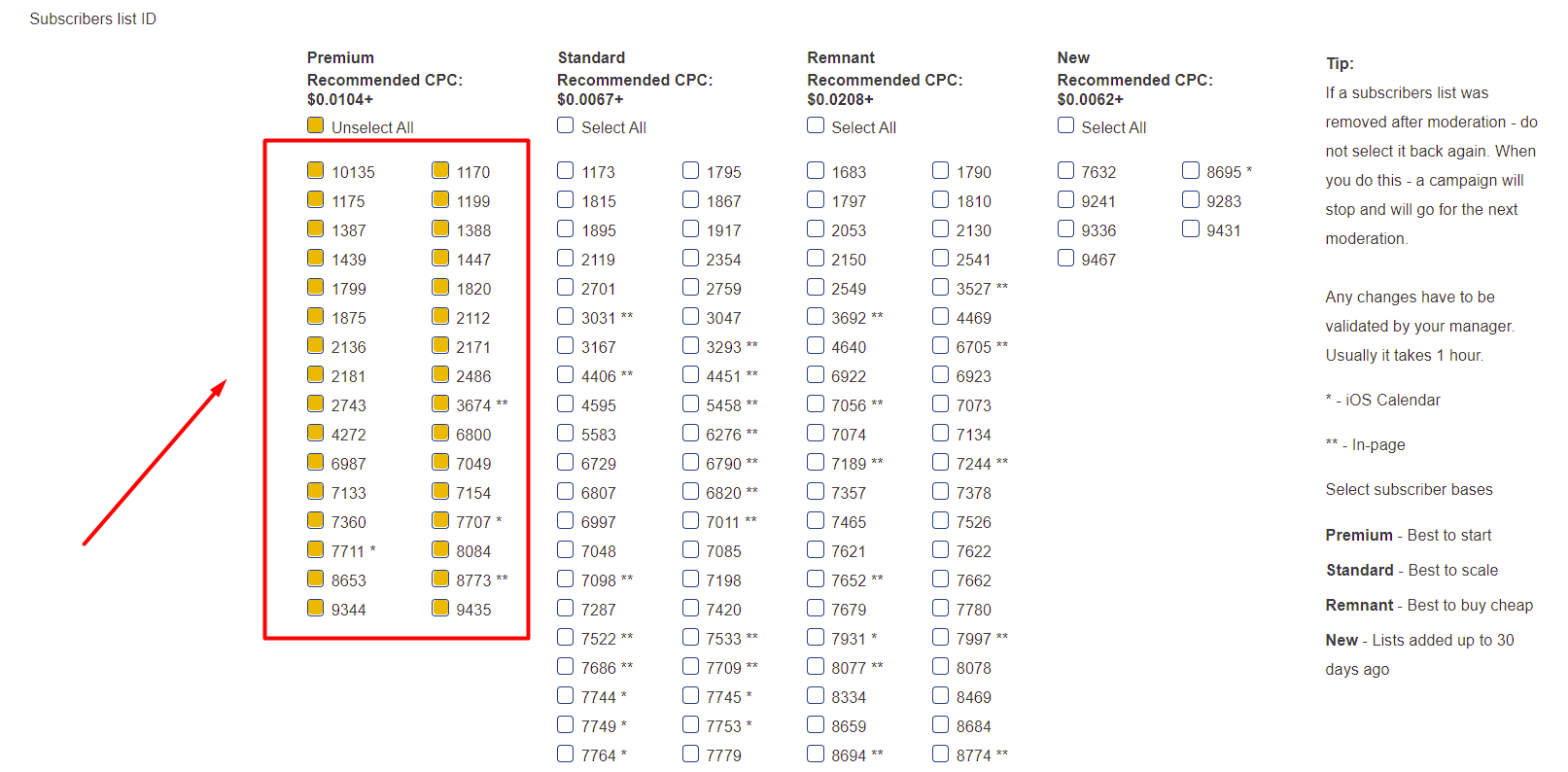 Later if you want to scale up or test various sources you can create separate campaigns for each source group or include more sources into the same campaign.
In case your only goal is to get the cheapest traffic, all sources or remnant+standard combo would be a good fit for you.
B. DESIGNING CREATIVES
As we all know the creatives play the main part in promoting any brand, product or service. Your funnels, landings, prelanders and ad materials (banners, icons etc) are basically the face of your campaign. They should attract the users and be understandable for them.
Besides checking your creatives for grammar mistakes, there are some more things you need to pay attention to in order to get results:
1) MARKET TRENDS
You can take the offers/prelanders ideas online or come up with them yourself - it doesn't matter! Before using or preparing them you have to keep up with the trends and check what is currently converting for the others out there. You can use Spy Tools and search for examples online or you can contact our managers on support@adavice.com directly for the helping hand!
2) THE VISUAL CONTENT
Bad picture quality, low image resolution, not matching landing and prelander or even using not related pictures can greatly influence a campaign's performance.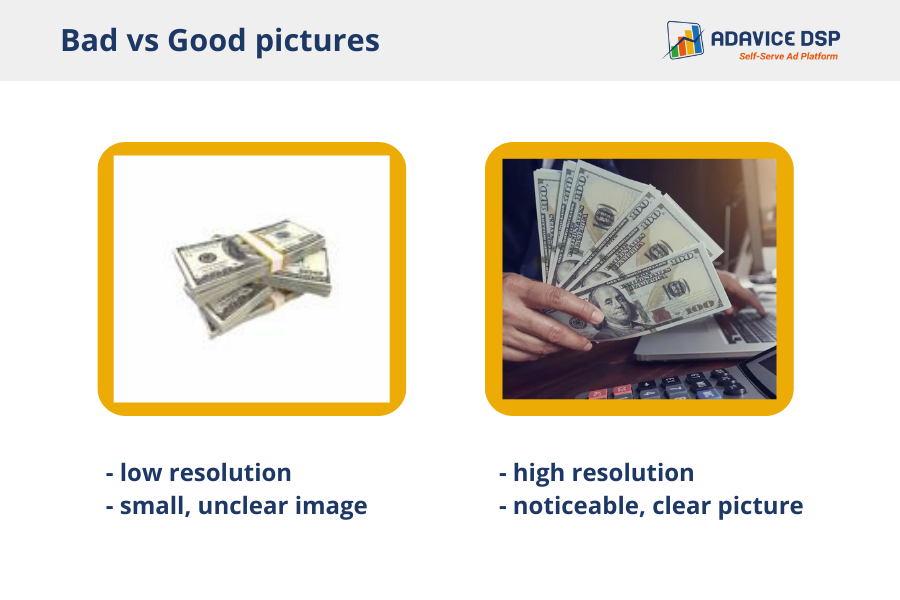 In addition, check how your creatives correspond to the selected targeting: device orientation, certain geo or language specifics as well as the text content of the ad materials.
Pro tip: We recommend to start testing at least 3-5 creatives at a time to see what works best for your demand.
3) FLOW IS IMPORTANT
Remember - landing page is a part of your creative strategy. Advertisers tend to scare the users off with the long prelanders, lengthy registration forms and not clear call to actions. Depending on what your goal is (registration, purchase or subscription) it should be clear for the user what flow he should go through. Make visible CTA buttons and instructions instead to solve this problem.
Find more details and tips on verticals & creatives in our Article! Check the list of steps that will make your creatives convert.
C. TESTING TIME
The conclusions about your campaign's performance rely on the statistics collected for a certain period of time.
Another common mistake is to give up too soon after spending a certain amount of money and seeing no or poor result. Of course, the testing budget may vary based on the offer type, amount of traffic or your personal limitations.
But how can you know whether to stop or continue testing a particular offer? Here are some pro benchmarks to understand if it's time to dump your offer or if it has a potential. Take the initial budget of 10 times your payout and check the results after:
Positive ROI - awesome and easy start! Keep improving and scale up!
-20% ROI = Very good. Keep optimizing, and you'll be in profit very soon.
-50% ROI = the campaign has potential. Keep optimizing for a few days to a week, and you might see profits.
-60% ROI = it's going to be challenging to reach profits, you can give it a bit more time, or move to another offer.
-75% ROI or lower = there's a low chance it will work. Better to dump this offer and choose another one (landing page, geo, vertical, funnel).
Think of it this way: you're not paying for the immediate result and high profit. During those testing days you are spending money for the needed data for optimization, so you could scale the right settings and make profits! The first testing period is essential for determining the good-working model and excluding bad settings in the future and many advertisers don't use this opportunity.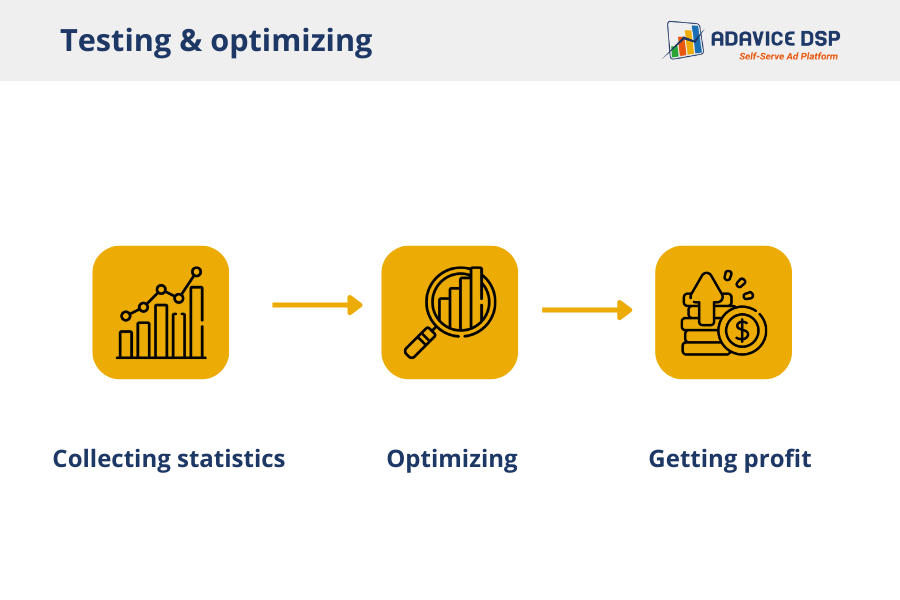 SUM UP CHECKLIST
In conclusion, there are few simple steps you should check before launching your campaign:
1) Correct targeting;
2) Daily budget is set;
3) Budget pacing is set;
4) Correct bidding;
5) At least 3-5 push/banner creatives are set;
6) The clear 'call to actions' are stated;
7) Targeting the right sources;
8) Testing budget plan is in place.

Create your campaigns using these tips from Adavice DSP, collect the data and share your amazing results with us at support@adavice.com!
We are always ready to help and share the knowledge with you. Stay tuned ;)
Got successful campaigns with us? Share your case study and receive a bonus! For more info contact us support@adavice.com.