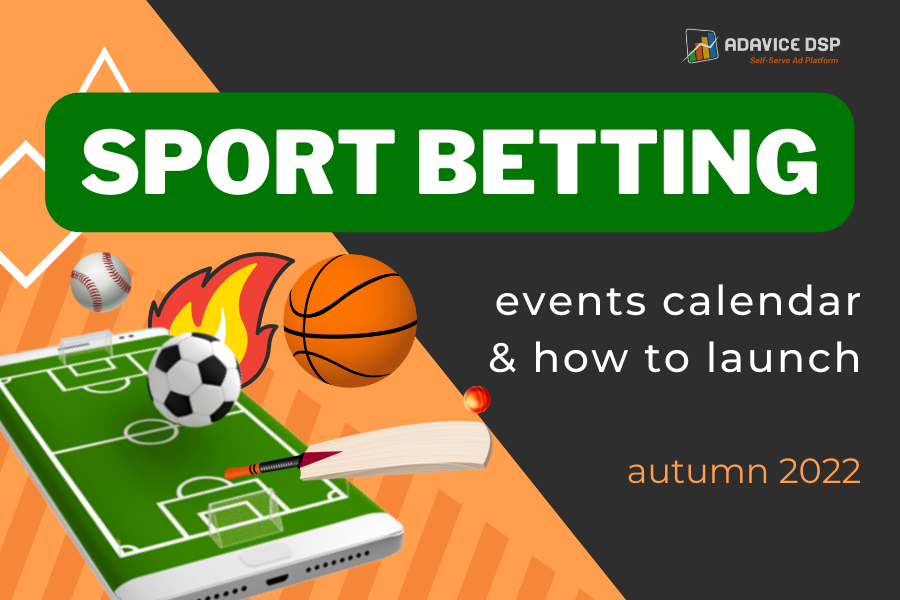 Autumn 2022 Sport Betting Events' Calendar: The Biggest Sport Issues And How To Promote Them
Prepare for launching a betting offer: learn more about the biggest sport events this autumn and get creative tips for your campaigns!
Online betting keeps flourishing making it a top vertical in 2022. Many affiliates choose sport betting offers to promote and there are good reasons behind it! In 2022 the gross earnings from gambling exceeded $400 billion, up to 40% of which were generated by sport betting only (reference: EarthWeb).
From the COVID-19 lockdown in 2020 till today people spend more money online including on sport stakes. As the market increases it is important to keep the audience with relevant content and good visuals.
Let's look at the upcoming sport events you should consider promoting as an affiliate in autumn 2022.
SPORT EVENTS IN AUTUMN 2022
When launching a sport betting campaign consider the upcoming sport events that people are going to bet on. It is better to select the most popular ones per country as their marketing campaigns are big and most people know about them.
Tip: do the background research on the most popular sports in the selected countries to choose the best winning offer.
Here is a sport event calendar for the big events happening in the autumn of 2022: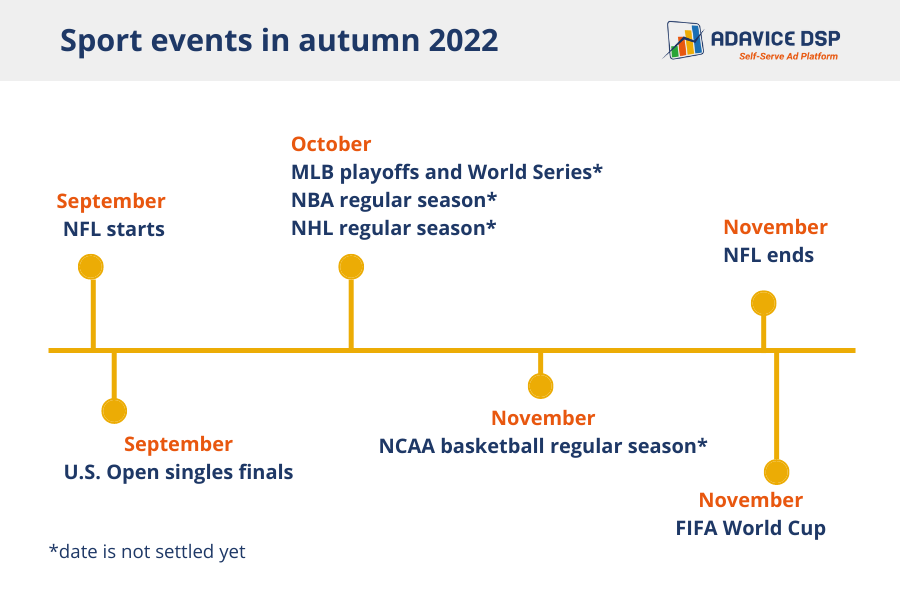 Let's take a look at a more detailed calendar for sport events in the autumn of 2022:
| | | |
| --- | --- | --- |
| Month | Event | Geo |
| September | St Leger Festival | UK |
| September | UEFA Champions League | Europe*, UK, IL, UA |
| September | UEFA Europa League | Europe* |
| September | NFL Regular Season | US |
| September | Ryder Cup | US |
| September | The Hundred Finals Day | UK |
| September | International United Rugby Championship | IE, IT, ZA etc* |
| September | Europe Super League Grand Final | UK |
| September | AFL Grand Final | AU |
| October | Prix de l'Arc de Triomphe | FR |
| October | The Everest | AU |
| October | 2022–23 Australian A League | AU |
| October | Copa Libertadores Final | EC |
| October | 2022–23 NBA Basketball Season | US |
| October | 2022–23 NHL Ice Hockey | CZ |
| October | MLB American League Champions | US |
| October | MLB National League Champions | US |
| October | MLB World Series | US |
| October | ICC World Twenty20 | AU |
| October | Australia & New Zealand National Rugby League Grand Final | AU, NZ |
| October | PDC European Championship | DE |
| November | Melbourne Cup | AU |
| November | Breeders Cup Classic | US |
| November | Japan Cup | JP |
| November | NCAA Basketball Regular Season | US |
| November | College Basketball | US |
| November | European Rugby Champions Cup | Europe* |
| November | Autumn Internationals | UK |
| November | Mosconi Cup | US, Europe* |
*check event corresponding resources
The season is full with massive sport games meaning affiliates will have plenty opportunities to hop in with different offers.
As always choosing the right ad format and creatives are vital for the campaign's success. Let's look into it in more detail.
AD FORMATS FOR BETTING
The top formats for betting offers are:
1) Classic push ads:
- deliver personalized messages to user's device;
- customizable creatives (icons, main picture, text and emojis);
2) Calendar push ads:
- the most unaggressive ad type;
- shown in user's calendar app;
3) Pop ads:
- easy to create;
- your Landing is your creative, the catchier the better;
- the cheapest traffic of all;
Of course, the performance depends on many variables: the offer you are promoting, geo, ad format etc. We recommend starting at least from 2 top ad formats (pop and push) to reveal the best-working model for your settings.
CREATIVES FOR BETTING
Let's see the best performing creatives and icon types for the most popular format - push ads!
Push text - how to make it work for sport betting campaign? Here are a few tips:
- always indicate bonuses in the text;
- use emojis - sport related and the ones that drag attention;
- show how much user can win - give numbers;
- indicate most popular games - it will attract fans which is exactly your audience. Don't forget to switch the text after a particular game is over.
Now about the pictures. There are several push notification icon types that work best for betting campaigns:
1) Bonus promos
2) Money incentive
3) Sport events, brands
Let's look closer into each type!
Bonus icons
These icons attract users with welcome bonuses and show the benefits he receives when betting with your service. Present boxes or a bonus itself can be used as an icon.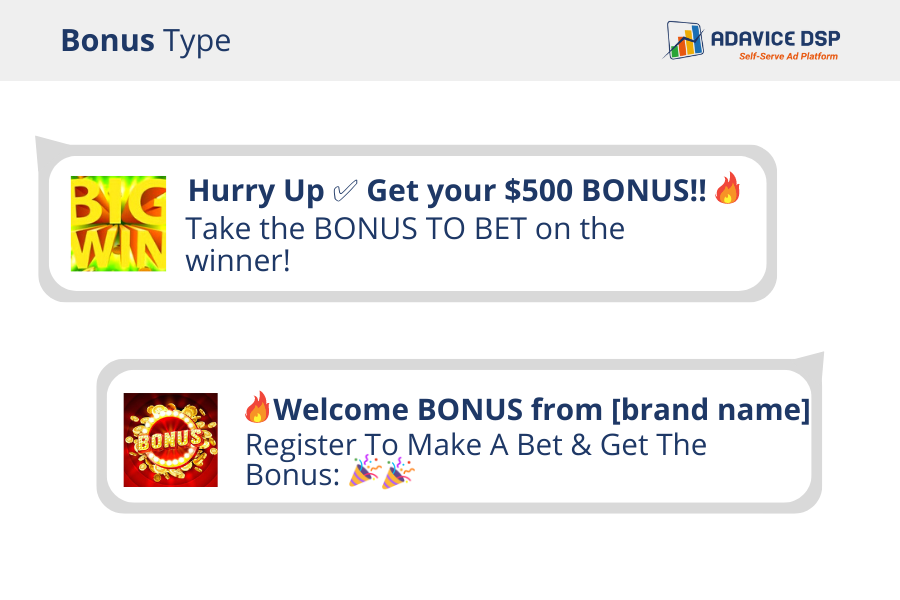 Notification icon
The most basic type of icons as they look very organic on the user's screen and get his attention very fast. The most popular ones are: envelope, missed call and missed message notifications.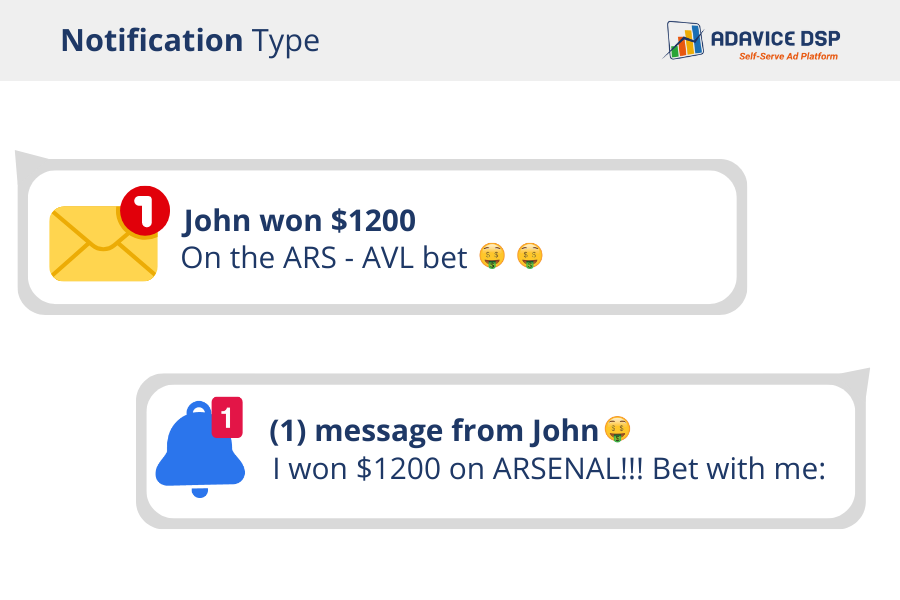 Sport events, brands
Add recognizable information and action: sport events and matches, upcoming tournaments, betting company's logos and names are perfect icon types to promote betting.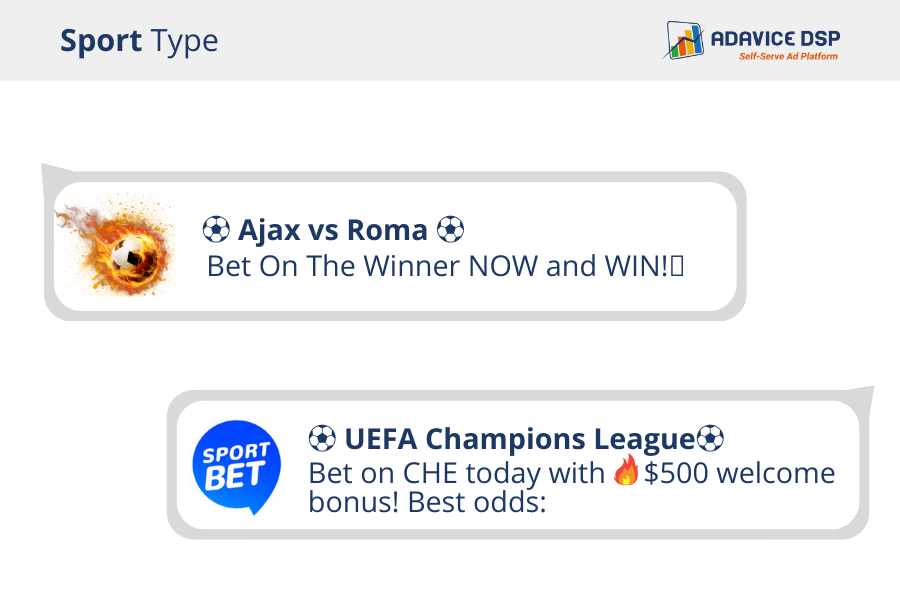 LAUNCHING TIPS
If you are new or rushing to launch the campaign - you might run into a few mistakes which would mess up your campaign results. Take a look at the list of correct basic set up tips when launching a betting campaign, and make sure you set it right:
1) Check your Landing's design, use easy flow and clear CTAs;
2) Make sure the landing page is optimized for mobile and desktop devices. If there are issues - use a device targeting accordingly;
3) Don't forget to define the daily budget;
4) Make sure you are targeting right sources;
5) Check the schedule, start the campaign 2-3 days before the targeting event, increase traffic 3-5 hours before games start.
6) Test at least 2 ad formats, optimize and scale the best model;
7) Make sure the tracking is set correctly.
You are good to go now! May the profit be with you! $$$$$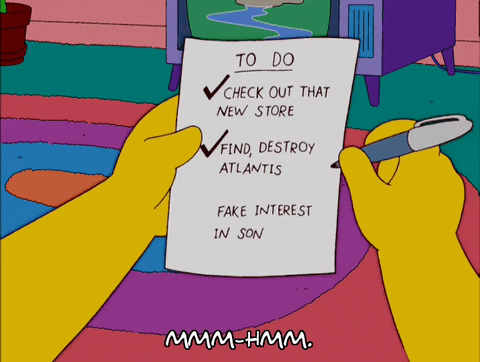 Learn more about setting a campaign's budget and targeting in our Blog's FAQ Article.
BONUS: HOT RIGHT NOW*
Don't stall, consider making profits already today launching Betting campaigns on below combos of GEO&Format.
Launch PUSH in below Geos (from most converting to less):
| | |
| --- | --- |
| Brazil | Zambia |
| Congo | Nigeria |
| Bangladesh | Ghana |
| India | Turkey |
| South Africa | Mexico |
| Mozambique | USA |
| Portugal | Italy |
Launch POPs in below Geos (from most converting to less):
Bangladesh
Poland
South Africa
Czech Republic
Ghana
Angola
Cote d'Ivoire
*Info is valid for September 2022, in case you are looking for a fresh list - please contact your manager at Adavice DSP.
We wish you luck this autumn! Share your great results on betting with us at support@adavice.com! Make sure to subscribe to our notifications to not miss a thing ;)